On this trip I have discussed the coastline and the mountains of Morocco. For the last two days we have been in the desert of Morocco.
And that is why I have not blogged in two days. Needless to say, internet connections are not great in the Sahara Desert.
When I talk about the desert in Morocco, I am talking about the Sahara Desert. The Sahara Desert stands apart from all the other major deserts in the world.  When you think of desert, the first word that comes into most people's mouths is Sahara.  I believe in large part because of its size and expanse – it touches 11 different countries.  It is the largest hot desert in the world — the same size as the United States.  But also because of the lore associated with it as portrayed in numerous movies over the years.  The Mummy, Queen of the Desert, Laurence of Arabia, The Good, the Bad and the Ugly, etc.
Only a small percentage of the Sahara Desert is in Morocco, yet we have driven for hours and all we have seen is desert.
At this time of year, there are not many people in the desert. The tent camp we stayed at has a maximum capacity of 30 people, but last night we were the only guests.  We got the whole place to ourselves.
To get there our guide TaTa lead us on an exciting 40 minute four wheel drive trip through sand dunes from the last drop off place near a paved road.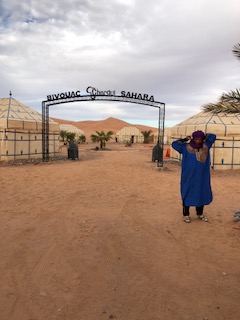 It is a tent camp. Everything is in a tent. The kitchen, the dining room, the individual bedrooms.  But they are pretty luxurious tents.  They are completely enclosed.  They have running water, a shower and a toilet.  They have two regular beds and a sofa.  Lights and electricity. And they have a heater/air conditioner. Thank goodness, we had a heater in our tent. it gets very cold in the desert at night.  But, if you have to go tent camping, this is not a bad way to do it.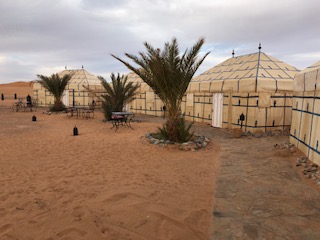 After dinner we engaged in some bongo drumming.  all of us are pure amateurs, I can assure you.
Everything besides sleeping and eating takes place outdoors. In the afternoon we took a camel ride to the mountain like sand dunes surrounding us.  More about that in a subsequent blog.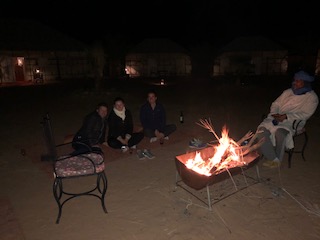 At night there was a roaring fire. The three younger members of the foursome experimented with a few yoga poses on rugs placed on the sand.  After which they laid out and stretched out, looking upward to the amazing sky full of stars.   In the middle of the desert there are no lights from anywhere to disturb the view.  Quite a wondrous sight!