all who have an interest in some of the inner workings of Team Peterson's travels,
as reported in earlier blogs Team Peterson has some traditions in its many travels.
i thought you might be interested in a few of the others.
we set aside three nights or three dinners to discuss the following.
how are we doing in meeting our individual goals.  yes, one evening, usually over dinner, we each go around the table and discuss what our personal goals are and how we are doing in reaching them.  Brian is probably the best organized on this.  we have followed his format of breaking down our goals into four major categories.  one being health and wellness. another being professional, work related growth.  third, relationships with your significant other and then the same with family and with friends.  and fourth, whatever other personal goals you may have.  this exercise turns out to be amazing in how much everyone shares.  even though this is done on vacation, it is a very meaningful experience and taken seriously by all.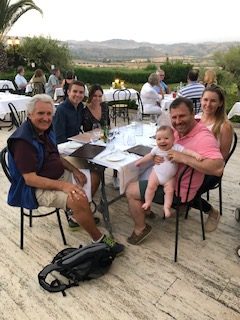 where will we travel next.  on another evening, usually over dinner we discuss where we will travel next.  this is always fun and inevitably surprising.  we each name the top three locations, countries, experiences that we would most like to do next.  and then we talk about them. trying to get some consensus on where and when we will travel next.  Kelsey, for example, is really interested in going to Japan.  She is also interested in visiting more countries in the Mediterranean by boat.  not a cruise ship, but a large yacht. Yours truly is very interested in going to Scandinavia and to Eastern Europe.  we all want to go to Iceland.
how do we rate this trip. usually during dinner on our last evening of the trip we sit back and assess the trip. for each of us we go around the table and cover three questions.  one, what was the highlight of this trip for you?   two, what was the low light of this trip for you?  and three, what was the pleasant surprise that happened for you on this trip — something that you did not anticipate?  we usually do this on the last evening we are together — the night before we each get a flight to return to our different home bases.  and very often, the individual reports bring a tear or two as each trip seems to be so meaningful in some way.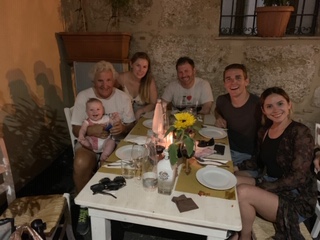 what a wonderful way to spend time with family and loved ones.
some have asked how we do our trip planning.
they all are organized and planned by Peterson Sunshine Tours (PST) — yes, yours truly.  PST is a sideline business that i started many years ago.  it has organized and shepherded groups of eight to golf outings in Scotland, Ireland, England and to Bandon Dunes in the States.  it has organized many travels for Team Peterson too. Needless to say PST has been very selective in who it does its travel and trip planning for over the years.  PST does not advertise, does not have its own website, and operates through word of mouth.
Having said that, how does PST organize and plan its trips?  rule #1 is that PST does not work with tour operators or join preplanned group tours.  PST does it own trip planning and booking.
how do i do that?  Rule #2.  get good advice.  my go to source for advice on European travel is Rick Steves.  having said that i am not wedded to him, but my experience with him is on the whole very, very good.  so, for this trip to Sicily, i used his guide book on Sicily, and i went to his offices in Edmonds Washington for a one hour presentation on Sicily that he and his staff provided.  on this trip to Sicily i also used Lonely Planet's guidebook on Sicily.  and i did numerous internet searches too.
the other way i get good advice is to ask others who have been to Sicily for their recommendations on what to see, where to stay, where to eat, etc.  Team Peterson decided to go to Sicily a year and a half ago.  so for the last 18 months i have been asking anyone i come into contact with that has been to Sicily for their input.  for example, on this trip most of the lodging we ended up staying at were the result of advice from one of Kelsey's friends that had recently been there.  in almost every case — Palermo was the exception — we stayed at agritourismos located outside the city and in a farm like setting in more rural areas.
Rule #3.  don't stay in hotels.  we hardly ever stay in a hotel.  we always want to stay in a local house, Air BnB, bed and breakfast, agritourismo, etc.  anywhere where we can have a connection with a local person or persons.  the trip to Cuba was the best example of this.  we ended up staying every night in a different local home everywhere we went in Cuba.  these were all organized by Pepe where we stayed the first night in Havana.  Pepe took a liking to us, and he insisted that we stay at his relatives and friends houses whereever we were in Cuba.  the reason we do this is that this is a great way to get to know the local people and to understand the local culture.  also it is a great way to get advice on local attractions and local eateries.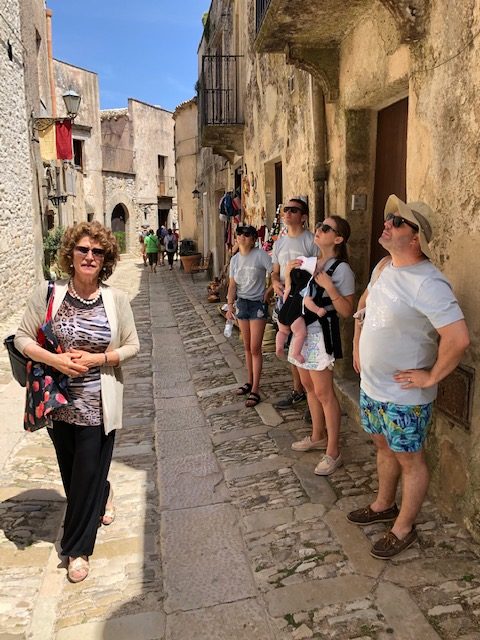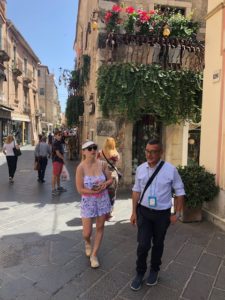 Rule #4.  we almost always get a local walking tour guide no matter where we are.  i am really into this.  so much so that when i go to visit my son in San Francisco or my daughter in New York City i will organize for us a walking tour of something or some area of the city that we want to learn more about.  most recently in NYC, we did one in Queens.  who do you know that has taken a walking tour of Queens?   previous to that we did a walking tour of Harlem.  we also did one of Morningside Heights and Grants Tomb.
on foreign trips in Europe i rely usually on Rick Steves' advice on local guides for walking tours.  on this trip to Sicily, we had a local walking tour guide in Palermo, in Trapani, in Erice, in Agrigento, on Mt. Etna and in Taormina.  we have found that two hours is the limit for us.  three hours is too much.
a few insights into Peterson Sunshine Tours!