all who have any tastebuds,
Sicily is the place for foodies, gourmands, gastronomes, and epicureans — in short, for people you enjoy a great meal.  and it is especially focused on seafood.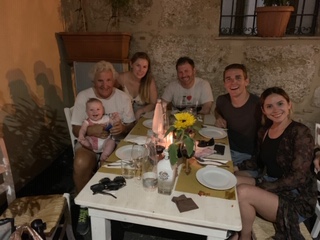 Sicilians take their food seriously and yet they enjoy the heck out of it.  they use the meal time as a crucial part of the day — one which brings family and friends together, one which allows you to relax and reflect on all the hustle and bustle associated with life.  Sicilians still follow the siesta tradition of having work and shopping stop from 1:00-3:00 pm each day for their big meal.  the main meal can have 5 courses — appetizer, first dish or course, second dish or course, side dish, and sweets for desert.  breakfast is a non event, and a light dinner starts late, anytime after 8 pm until 9:30 pm.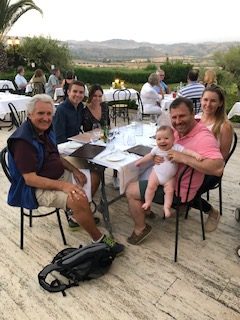 in previous blogs i have exclaimed about caponata and gelato in particular.  but this does a disservice to all the other wonderful Sicilian delights.
appetizers.  so many and so luscious. bruschetta, carpaccio, prosciutto, olives, grilled vegies, caponata, antipasto of all types, cheeses and more. huge emphasis on seafood.
first plates.  pasta of all types. there are over 600 different types of pasta.  but pasta with something, and that is most often some kind of seafood.  clams for example.  last night i had anchovies with my pasta.  another example is spaghetti ai ricci, which is spaghetti topped with sea urchin.  most of the time on this trip we were full after the first two courses.
second plates.  the equivalent to our main course.  in Sicily seafood is the main course.  swordfish is very popular. tuna of course.
side dish.  usually a salad or grilled vegetables.
dessert or dolces (sweets).  tiramisu is clearly a favorite.  almond cookies are to die for.  granita which i will describe below.  cannoli of course.
what was truly special for me on this trip were the following.
caponata eggplant salad, hot or cold.
arancine.  their most popular street food. looks like Mt. Etna in its shape.  deep fried rice balls with different types of fillings.  my favorite filling is sardines with wild fennel, pine nuts and pecorino cheese.
panelle. chickpea fritters.  another popular street food.
the seafood. the freshness of the seafood was palpable. you name it — every kind of fish, mussels, oysters, clams, shrimp, squid, sardines, octopus, anchovies and more.
sarde a beccafico. rolled up sardines sprinkled with raisins, pine nuts and breadcrumbs.
seafood salad.  what i love about their seafood salads is that it is all seafood. no lettuce.  just seafood.  yes!
pasta alla Norma was my favorite pasta.  it is made with fried eggplants, tomato sauce, basil and salted ricotta cheese on top.  my second choice is ravioli with eggplant filling.
swordfish rolls
granita — frozen slush, with blended fruit or milk.  comes in different flavors.  my favorite is lemon. so refreshing.
gelato of course.
if you, like me, are a pescatarian, then this is the place to be.