Yesterday, September 3rd, was National Cinema Day.  Tickets to movies in 3,000 theaters and 30,000 screens across the country were $3 each.  How do you beat that?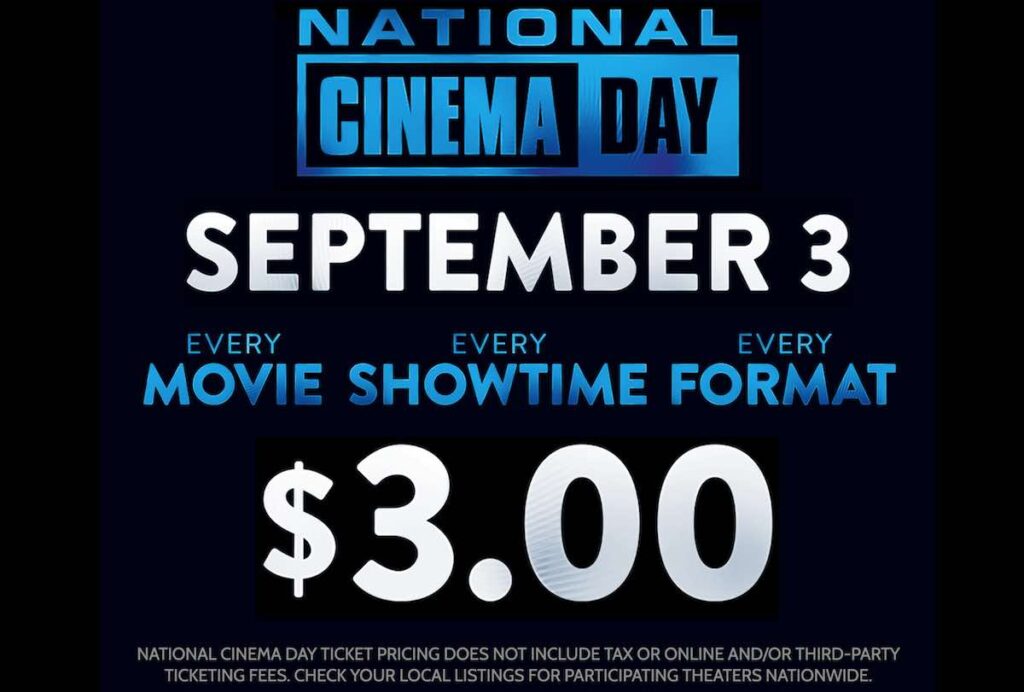 Always looking for a deal, I could not resist.  As I think about it, it has been months since I went to a movie theater to watch a film.  Egad!
I love movies.  I love film.  I am an inveterate film festival attendee.  Every year I go to the Seattle International Film Festival and the Palm Springs International Film Festival.  In addition, over the years I have also attended the film festivals in Toronto, New York, Borrego Springs CA, and Woods Hole MA.
To be sure, I am still watching movies, but I am doing it almost exclusively from my living room couch.  I am watching them on Netflix, Amazon Prime, and similar channels.
Yet, there is no doubt that there is something extra special about seeing some movies on the big screen in a theater with other people.
To take advantage of the $3/ticket pricing, I began to search for movies on my Flixster app on my iPhone. Yesterday was a perfect day for a movie date, I thought to myself.  Yes, siree.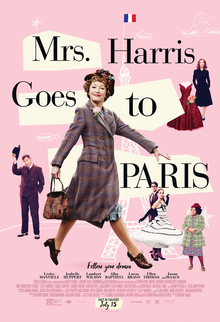 What movie to see, and where?  The movie that I had heard some good things about was Mrs. Harris Goes to Paris.  On Rotten Tomatoes It has a 95% rating from the critics and a 93% rating from audiences.  Not bad.
But where to see it?  I searched all the movie theaters in the Seattle metropolitan area and could only find two that were showing the movie.  Both were in very small theaters in remote locations.  I chose to go to The Edmonds Theater, a 25 minute drive from Seattle.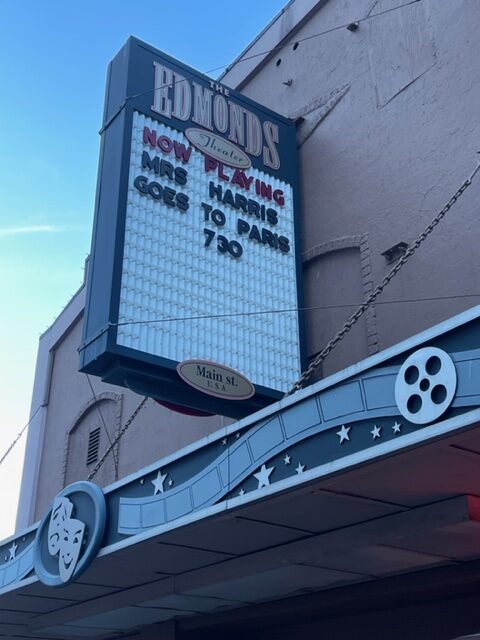 Why the film is not playing at the numerous cinemas in the Seattle area befuddles me.  I don't understand why only a small, old theater in a small outlying community is one of two spots that are showing this movie that has received such high reviews on Rotten Tomatoes.  The movie was released on July 15th in the United States, and is being released this weekend in England.
Edmonds is a community of 40,000 residents, with five miles of shoreline on Puget Sound, about 25 minutes north of Seattle.  It is the home base for Rick Steves and his travel business.  I happen to be a Rick Steves devotee.  I can't imagine going to anywhere in Europe without following the recommendations in his guidebooks.  For those of you who have seen his shows on TV, you have experienced the enthusiasm and travel philosophy that he radiates.  Even though I have been to his store and office before many times, yesterday I made a point of going early enough to be able to spend 45 minutes in the Rick Steves offices, thinking about possible future trips, talking to their tour guides to get their take on current travel issues and suggestions.

Then to the movie theater itself, which is 99 years old.  The sign as you enter tells you that the air conditioning system is not working.  The theater can hold 200+, but last night less than 50 of us are in our seats.  But before taking our seats, we had to get a small bag of popcorn to munch on.  How can you go to a movie theater and not have popcorn?  The theater is an oddity today, being a single screen, and independently owned, not affiliated with any of the large cinema companies.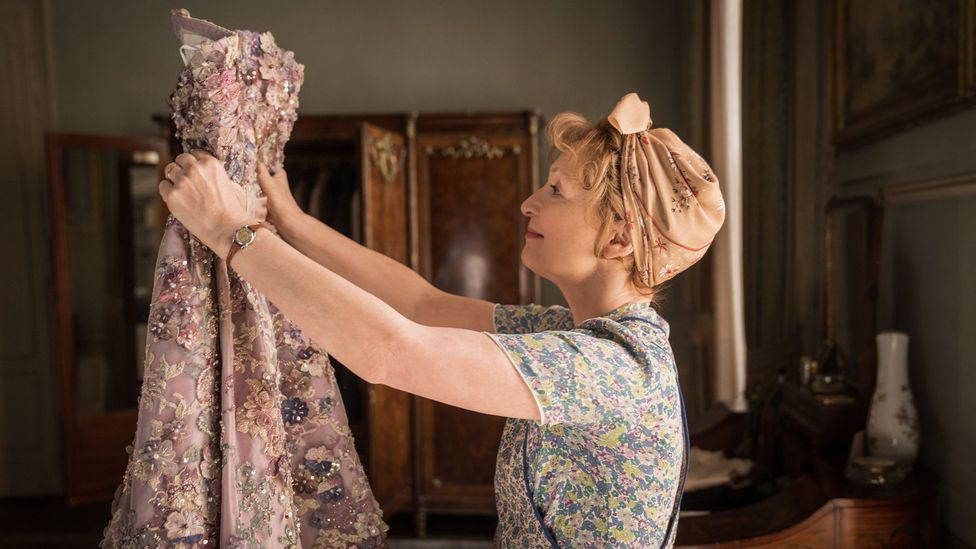 Bottom line, go see this movie, a film adaptation of a 1958 novel.  Mrs. Harris Goes to Paris is terrific.   Just what the doctor ordered.  It is a feel-good, uplifting movie.  It is totally PG.  So delightful.  Taking place in the 1950s, a wonderful seemingly simple story line – a widowed, middle aged woman working in England as a cleaning lady, sees a dress that she wants, eventually taking here to Dior in Paris.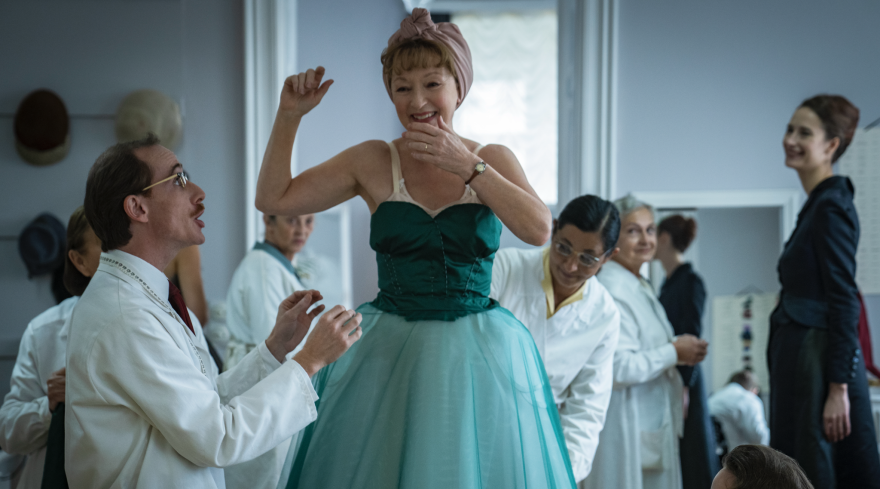 A fantastic performance by Lesley Manville, a British actress.  So many wonderful messages – the importance of having a dream, of honesty, kindness, grit, tenacity and sacrifice for others, to name a few.  A movie that had me laughing many times, and had me crying many times.   It really tugged at my heart strings.
I want to thank the National Association of Cinema Owners for celebrating National Cinema Day by encouraging me to get to a movie theater again.  And thank you for the amazing discount on the ticket price.
Not only did I go to a theater to see a movie, but also I saw a wonderful movie.  As result I am sure that I will start to go to movie theaters again.  It was a wonderful, very moving experience for me.
Thank you.