My goodness.  When was the last time you jumped rope?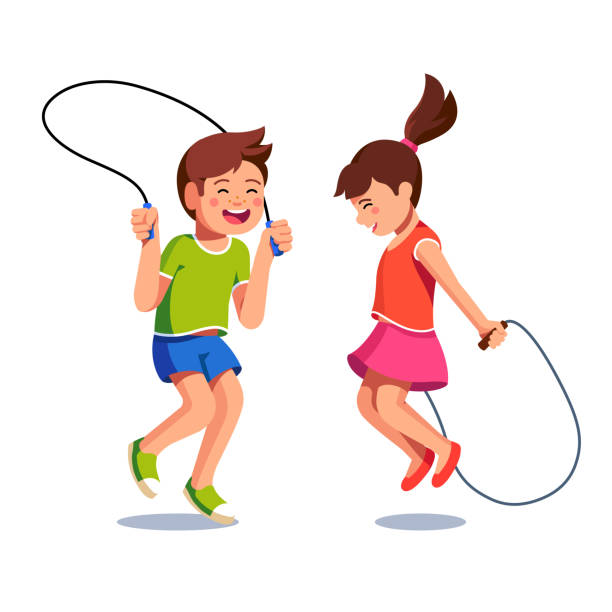 For me it has been over 70 years.  At least until several days ago when Phil, one of my closest childhood friends, challenged me to jump rope with him.
Phil frequents a small, but efficient workout facility on the top of his apartment building in New York City.  He explained to me that among his twice or three times a week routine, he jumps rope.
My response was holy cow!  Immediately I asked him why.  His answer was that it was a quick way to increase his heart rate.  Phil, a retired physician, should know what he is talking about, I say to myself.
So, I ask him to show me how he does it.  we go outside on the roof of the 12 story apartment building in the City.  He attempts to jump rope.  It is not easy.  Many false starts.  It is difficult, and it is difficult to watch.  He invariable gets very frustrated.  and, with some anger, hands me the rope and says, "you try it!"
Man alive!  This is not easy.  I try to twirl the rope around my head and touch the ground right where my feet are on the ground.  That takes some doing.  Remember now, I have not even begun to think about jumping.  I am just trying to get the rope to circle my frame and hit the ground where my feet are.
Now, I say to myself, I need to jump.  I don't know about you, but I do not at this stage of my life make a habit of jumping each day.  It is one thing to lift my leg up and place my foot on the next step when ascending stairs.  It is quite another thing to jump up in the air with both feet, and to do it simultaneously, in unison.
So here goes.   I try it.  Not even close.  Try it again.  Failure once more.  A third time.  No dice.
Finally, I succeed in getting the rope to go under my jump!  Yea!!
Success can be measured in many ways.  One way to measure this effort is to determine whether your heart rate has increased.  I can say, without equivocation, the yes, my heart rate has increased dramatically trying to jump rope.  Yes, success.
If, on the other hand, one chooses to measure success by the number of consecutive twirls and jumps of the rope, then we have a different conclusion.  Not good.
But, the more I try it, the better I get.  My best was 8 jumps in a row before missing a jump.
Now, to put this accomplishment into perspective.  The world record for the time of continual jumps before stopping is 33 hours and 20 minutes.  The world record for consecutive jumps in one hour is 14,657.
Supposedly you can burn 1,000 calories in an hour jumping rope.
I can't really explain why, but this ridiculous effort to jump rope on the top of an NYC apartment building has challenged me.  It has inspired me to see if I can do better.
In doing some research, it turns out that there are some tools one needs to be a decent rope skipper.  The first is a good rope.  It needs to be the right size for my height and it needs to be slightly weighted.
Second, there is a technique to skipping rope.  I will need to pull up some UTube videos to get me going.  Where the hands are placed, where your eyes are focused, how your knees are bent, to name a few.  All make a difference.  How to hold the rope.  The proper pounding technique.  These all are to be learned to be more proficient.
Bottom line, I have just ordered my first slightly weighted jump rope from Amazon.  To be delivered on Sunday, at a cost of $119 plus tax!
I will keep you posted on what progress I make on my self imposed goal to increase my consecutive skips from 8 to something more.  The world record being 14,657 skips in an hour.
If there are any good jump ropers out there, please don't hesitate to forward any advice you may have.