the guesthouses and pensions where we have stayed in Venice and in Varnazza do not have elevators.
for some reason our rooms have been on the top floor.
we literally stayed in the attic of the guesthouse in Venice, 70 steps up.

 
my health app says that a flight of stairs is counted as 10 feet of elevation gain, or approximately 16 steps.

  

which means that we walked up 4+ stories each time we went to our room.
our room in Vernazza in Cinque Terre is also on the top floor, with 60 steps to negotiate, which again is about 4 flights up.
the good news here is that this is forced

 

healthy exercise.

 

oh, and I forgot to mention that we carry our own luggage up and down the flights of stairs.

 
as if this was not enough exercise every day, we decided today to hike along the rugged mountainous coast of Cinque Terre.

  

Dr. Tom and I hiked from Vernazza to Corniglia,

 

a distance of around 6 miles.

 

PJ took the day off, which will be the subject of another blog.

 

stay tuned for that one.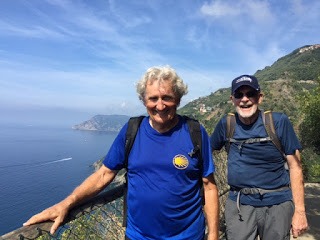 our hike today was not flat.

 

in fact it was very much up and down.

 

my app tracks the number of steps I take every day, as well as the mileage and the number of flights climbed.

 

according to my app, Tom and I climbed 66 flights of stairs today.

 

we traversed over 6 miles, and we took over 13,700 steps.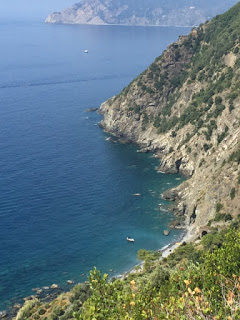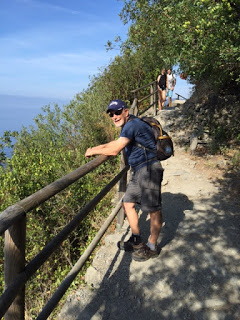 the obvious question is why don't these places that we are staying have elevators.

 

well, first, these buildings are very old.

 

like, very old.

 

they were built long before America was born.

 

second, these are historic buildings that have been preserved in as close to their original condition as possible.

 

third, the engineering and construction challenges involved in inserting an elevator are daunting.

 

and, finally, it costs money.

 
since i am the member of the threesome traveling group responsible for lodging arrangements, i have received some comments from my two traveling companions, but not too many.

 

they have been good sports.

  

and, needless to say, we all could use the exercise.
tomorrow, Dr. Tom and I plan to take another hike.

 

this one is supposed to be more difficult than the one we took today.

 

we will let you know the results and the all important statistics.

 
stay tuned.

 

a flight a day, keeps the doctor away.