My last blog talked about the coastline of Morocco. This one talks about the mountains of Morocco.
I would venture to surmise that most people when they think of Morocco don't think about mountains. But mountains they have!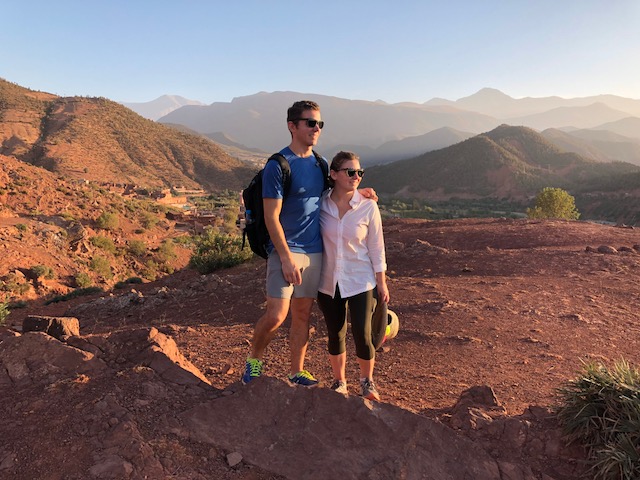 They have four mountain ranges – namely, the High Atlas, the Middle Atlas, the Small Atlas mountain ranges, as well as the Rif Range. These are extensive and impressive.  The High Atlas Range extends more than 1,000 kilometers from the Atlantic Ocean diagonally across the country into north western Algeria.
The High Atlas range contains over 400 mountains with peaks that exceed 10,000 feet. It is the highest mountain range in North Africa and contains the second tallest mountain in Africa, Toubkal, which reaches almost 14,000 feet (almost as tall as Mt. Rainier and Mt. Shasta).  Mt. Kilimanjaro in Tanzania being the tallest — a mountain that Kelsey, Guy and I climbed a few years ago.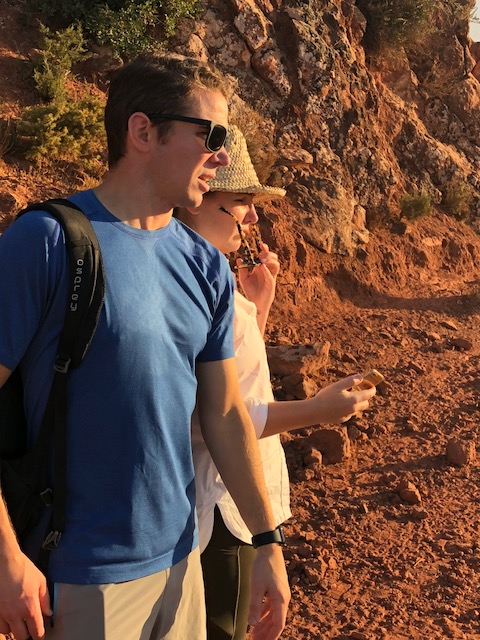 For the last two days Team Peterson has been living and hiking in the High Atlas mountain range. We are staying at a beautiful Kasbah on the edge of the Toubkal National Park, about a two-hour drive directly south from Marrakesh.  Each room has a working fireplace in it.  We are at about 3,000-foot elevation with grand vistas into the High Atlas mountain range.  A great jumping off point for our day hikes into the National Park.  The lodge that we are in also has hamman's which is a Moroccan kind of steam room/mud bath.  But more about the hamman's (pronounced ha – mom's) in a later blog.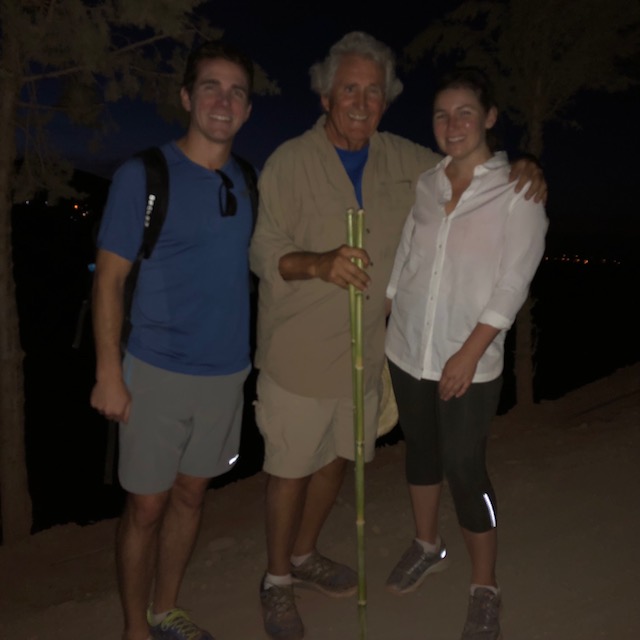 Back to hiking in the mountains of Morocco. Yesterday we took a two hour hike that was a little unique in that the last half hour was in total darkness.   We, and our guide, slightly misjudged our distances, or as my kids have claimed, the speed of yours truly on the hiking trail left something to be desired.
Today was a filled with a six hour hike which included a one hour break for lunch. We figure we hiked about 6 miles today, plus or minus. It was a gorgeous day and a wonderful experience. In addition to the special feeling that comes with being with nature, and the benefits that come with putting one leg and foot in front of another over an extended period of time, comes the almost meditative state that an extensive hike can provide at least at certain times during the hike.
Having said that, and if you know Team Peterson you will not be surprised to learn, the great majority of time on the hike is consumed with question after question to our terrific guide Mohammed. We talked about everything.  We want to learn so much.  The curiosity factor is unlimited.  This hike was no exception.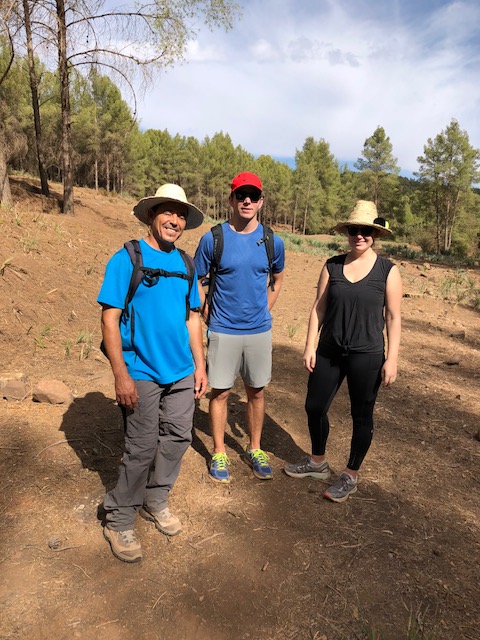 So, amazingly, our hikes are learning experiences too.
Two special events happened on today's hike that I want to share with you. One, after three and half hours straight up and into the National Park, we came upon a Berber village.  Berber's are the local people in the country, as opposed to "invaders" whether they be Arab, French, or Spanish.
Very small, very old. Maybe twenty cinderblock/rock/mud homes/huts at most.   There is a little school building but no other official places like a firehouse, or police station, or town hall, or energy utility.  None of that.  They do have electricity and they have running water at a community water spout.  No cars.  Only donkeys and motorbikes.  Alleys and lanes are made of just the ground, the dirt.  No pavement anywhere. No traffic lights, needless to say.
And yet, calmness seemingly abounds. No dogs menacingly barking at you.  No teenagers taking long looks at the "strangers".  No men staring at the American woman, Kelsey.  No people are rushing around trying to get somewhere soon or by a certain time.
The children, who are out of school this week as a semester break, are wide eyed and welcoming. In addition to several Berber dialects and Arabic, the country's official language, the language that the kids know is French, as the French occupied Morocco for almost 44 years.  So, the kids all say bon jour.  And of course we respond as well.
Obviously everyone in the village is very poor, but you don't get the feeling of anyone being destitute.
This was further imprinted on us with our second experience of the day. We had lunch in a Berber home/hut.  This was so special.  We had the chance to spend time with a local Berber family, or at least the husband and wife, Amina and Youssef.  To be able to talk (with the help of our guide/translator) was really enjoyable. As was sitting at their family dining table, big enough to hold 20 members of the family easily.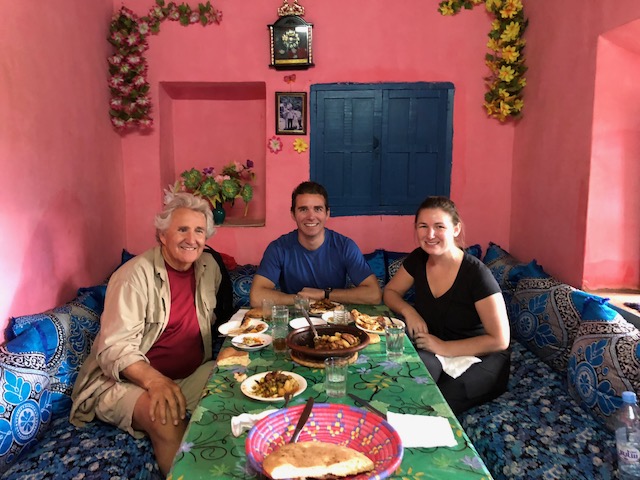 The food was amazing, which included the always present homemade bread, and the vegetables and lamb cooked to perfection in the traditional tajine pot.  All of this food was of course preceded by a glass of Moroccan mint tea.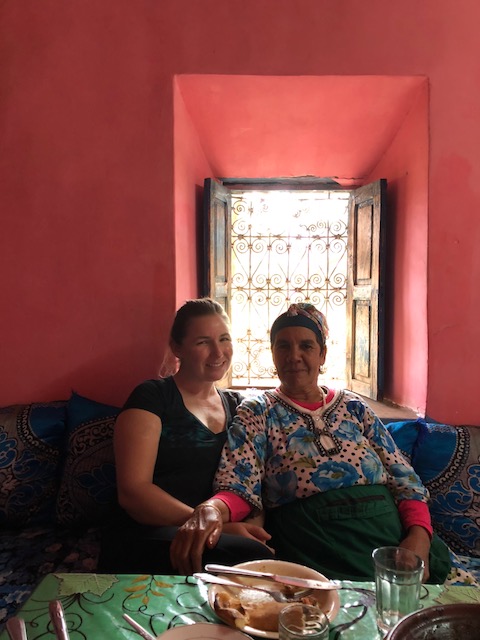 But again, as in yesterday's blog, the human, face to face experience was what was so special. Thank you, Amina and Youssef.