We have had the pleasure of spending our first two and half days, and three nights on the Atlantic coastline of Morocco. What a treat.  And what a pleasant surprise.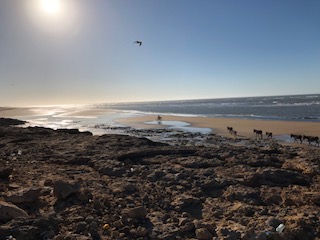 I don't really know what I expected, but I do know that the coastline made an impression on me.
First, its length. Morocco has 1,830 miles of coastline if you count the portion of the country that borders the Mediterranean Sea as well as the portion that hugs the Atlantic Ocean.   That amount of coastline rivals the west coast of the continental United States.
Secondly, it is so undeveloped. Several stretches of the Atlantic coast of Morocco have not been developed at all.  So surprising and so welcome.
Having said that it is obvious that the European continent, especially France and Spain have discovered a few of the towns and cities along the coastline. We visited El Jadida and spent the night there.  We ate fresh raw oysters in Oualidia.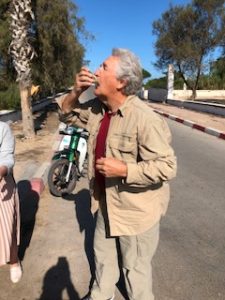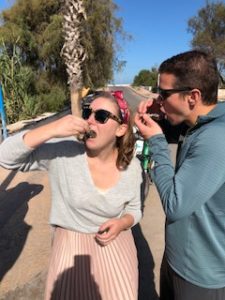 We had lunch in Safi, where we discovered the best local hole in the wall restaurant serving all their meals in a traditional Moroccan Tagine.  More about the cooking and the cuisine in a subsequent blog.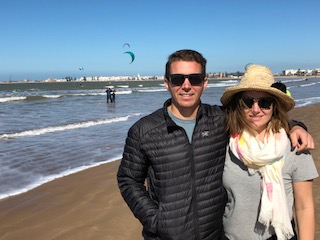 In addition, we spent two nights in Essaouira, which is clearly a playground for Europeans and others especially in the hot summers. Even though we are here in mid November, the recreational opportunities are numerous.  Many were availing themselves of surfing, wind surfing, kayaking, and kite surfing.   Or just swimming and taking long walks on the beach.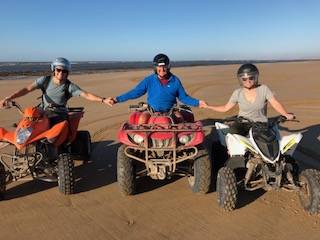 We joined in by going 4-wheeling for two hours on the beaches and sand dunes. We had a great time.  What made so interesting was that for the entire two hours we never saw a house or a building of any kind.  It was totally pristine and pure.
But not totally uninhabited. we came upon Mustafa — a fisherman who had his bare existence, his so called living quarters on the beach, just above the high water mark.  A man with nothing offered his hospitality.  He heated up some Moroccan Mint Tea just for the three of us – Kelsey, Guy, and myself – along with our 4 wheeler guide.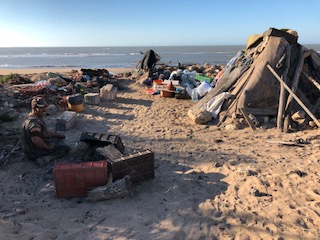 He told us how he survives, and how he fishes with nets to get his catch. He has a dilapidated bike which he can ride on the hard sand beach at low tide the 5 miles to the nearest store for water.
As a momento and in appreciation of his welcoming us to his home, I gave him an Edge Foundation pin which he proudly wore on his garb.
What a wonderful experience for us. Thank you, Mustafa.