all,
day seven was another day of hiking along the coastline of Northumberland.  a fantastic experience.
yes, we covered 12.3 miles and managed to put one foot in front of another 27,830 times.  we traveled from Craster to Seahouses, stopping in small hamlets of Beadnell and Low Newton-by-the-Sea.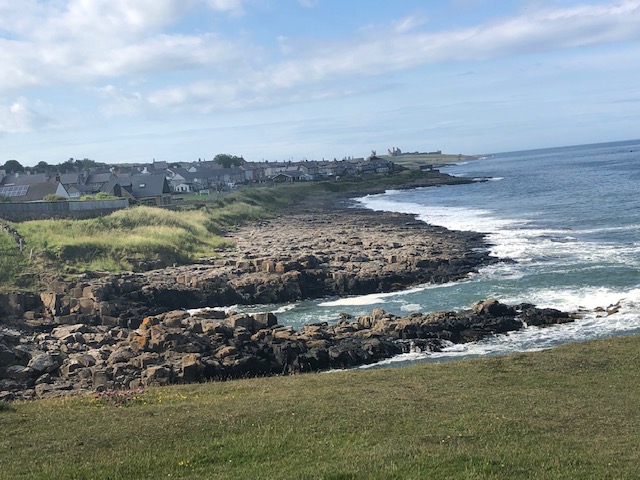 the things that make this hiking on the beach and along the sand dunes and adjoining bluffs so interesting are —
the people we inevitably run into who are also out for a walk-about,
the scenery including some amazing castles,
and the challenges associated with hiking the shoreline.
first, the people of England.  could not be nicer.  every one is so chipper.   so engaging.  and has such a good sense of humor.  very dry and very wry.
the one thing they all say is "don't tell anyone about Northumberland.  this area is a secret to not only foreigners but also to many from the British Isles."  they have something special here and they don't want to be invaded by tourists.  a little bit more about Northumberland in a future blog post.
and similar to Seattle, when the weather is good, it cannot be beaten.  but when the weather is bad, it is bad.  we have been unbelievably fortunate that the weather we have had has been terrific.  apparently very unusual for here.
the other thing that stands out about the people we run into is the value that they place on walking. taking a morning or afternoon stroll.  or, to use their term, a walkabout.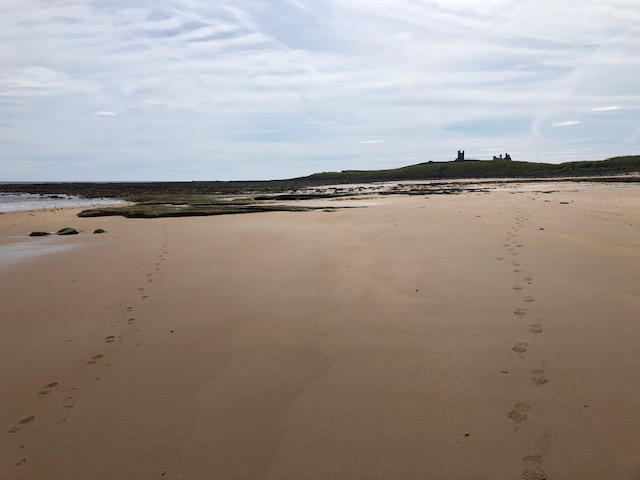 secondly, the scenery is amazing.  almost the entire 40 mile coastline of Northumberland has been designated an Area of Outstanding Natural Beauty (AONB).  the unspoiled expanses are breathtaking.  the seemingly miles of beaches.  the tidal differences here can reach 15 feet.  so, when it is low tide the beaches seem to go for ever.  couple that with unspoiled, natural sand dunes of all shapes and sizes. it is dramatic.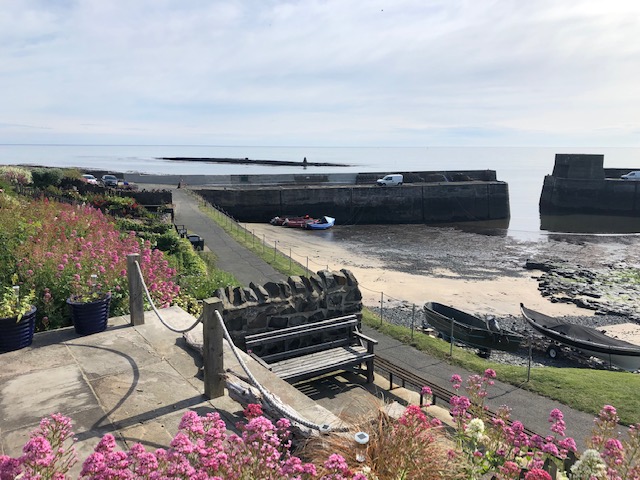 to add a little history and drama to this beautiful landscape that i am describing, you are constantly reminded of the role this area of England played in its history as you see castle after castle it seems.  there are more castles in this county than any other in England.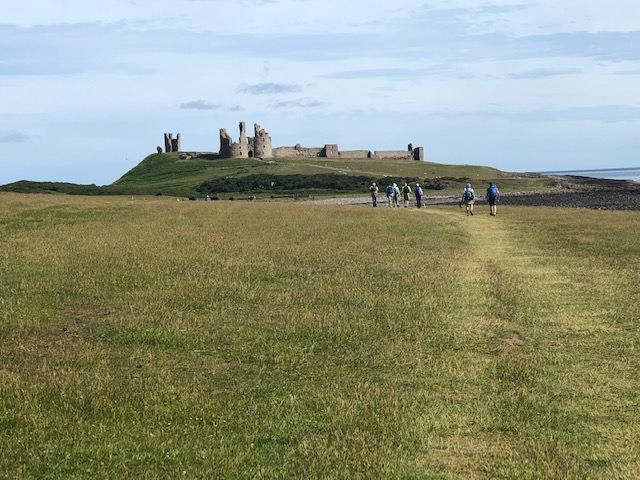 the sand is punctuated by reminders of even more recent history.  huge, four foot square concrete blocks dot the beaches.  these were placed there during World War II to presumably prevent German tanks from being able to come ashore.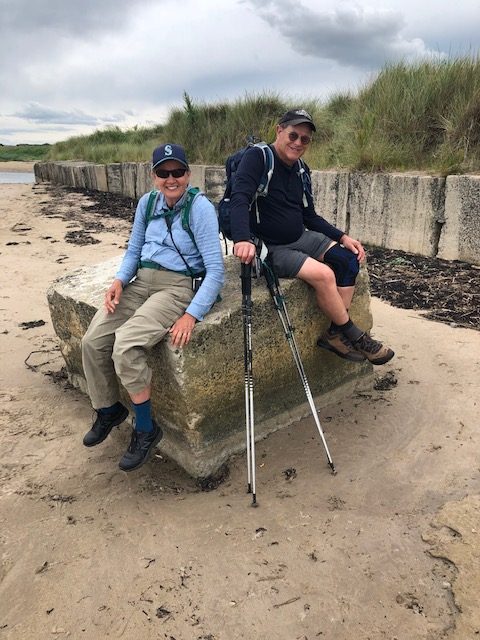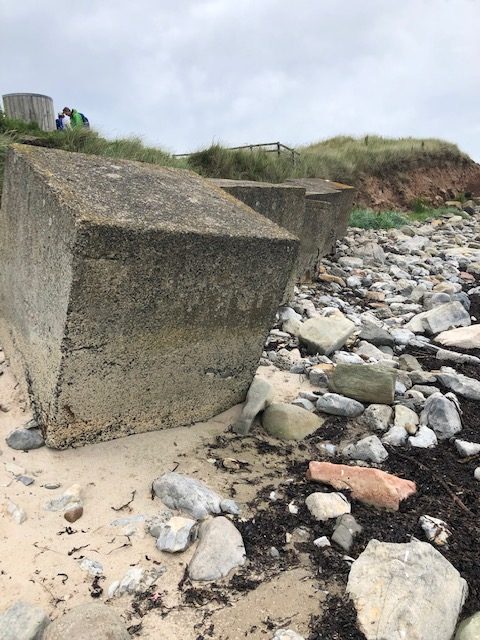 finally, hiking and walking the unending sand has a few challenges associated with that.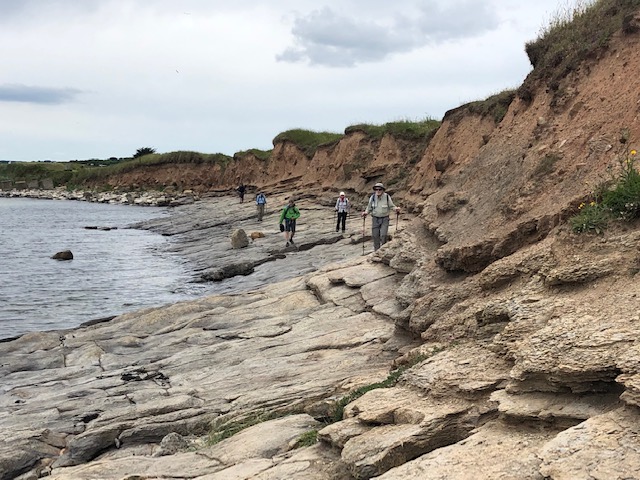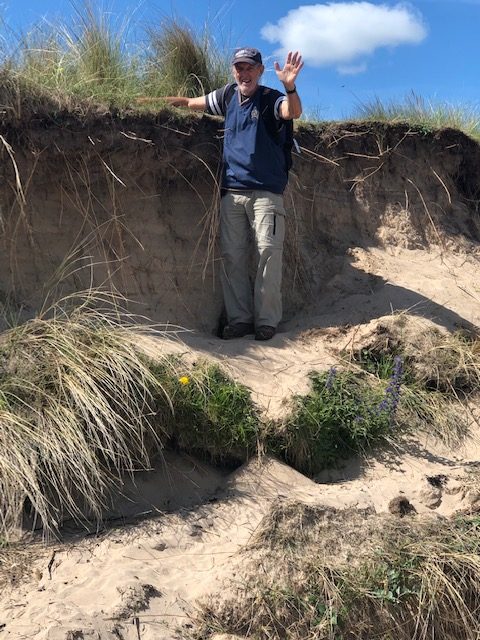 every once in awhile there is a stream or river to forge.  doing this can be challenging.  i am proud to say that Clipper and i took the initiative to attempt the first such river crossing at River Aln near the town of Alnmouth and we were successful.  the trick as the locals told us is that the following three things had to be in place at the same time — namely, a real low tide, no rain for a few days before, and it being summertime.  luckily we had all three going for us.