When was the last time you went to a restaurant and they had a buffet?  It seems like years ago.
Well, I got lucky on my second day in Iceland to find one in a small restaurant as part of the Settlement Center in Borgarnes, about an hour northwest of the capitol city, Reykjavik.  The Settlement Center is a wonderful understated effort to share the "sagas" —  the stories of how Iceland was founded by the Vikings from Norway and the several individual stories that are important to understand the history and cultural heritage of Iceland.
What a treat to have a buffet again.  How long has it been?  And to add to the joy, it was all vegan, all vegetables.  No meat, which I don't eat.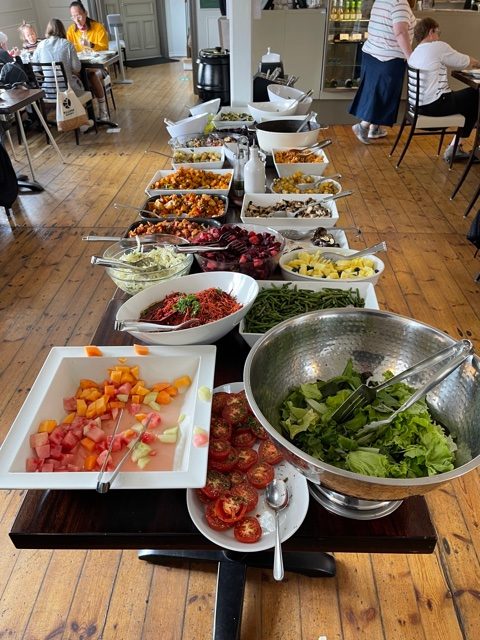 Boy was it luscious, and yet so simple.  a bowl of beets.  Also one with peas.  Some eggplant in another dish.  Some potatoes.  Some mushrooms.  Some melon slices cut up too.  Chickpeas.  Green beans.  I could go on.  You get the idea from my pictures.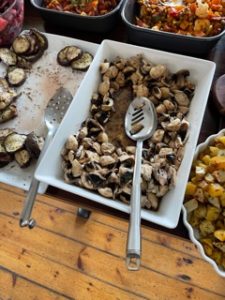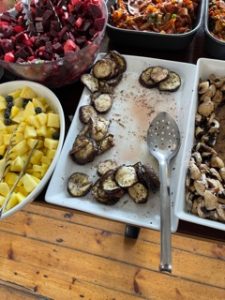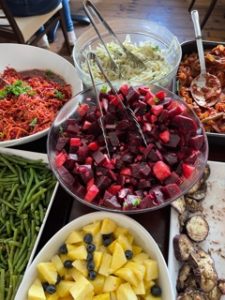 What made it so wonderful for me is that they kept each vegetable separate.  If I wanted to combine them then that was my choice.  Each vegetable had its own bowl or serving dish.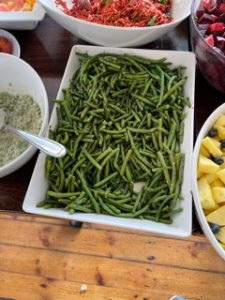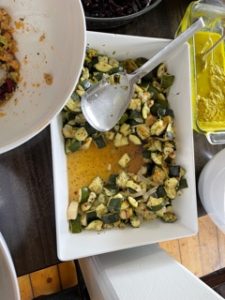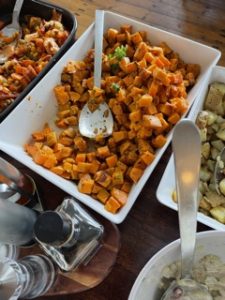 I went back for two helpings.  That is the other great thing about buffets – it is usually all you can eat.  Yea!!!
And it had a great cauliflower soup to start.  Soups, as you can imagine with the cold winters here, are very big in Iceland.
I just wanted to give a shout out for buffets.  I really miss them.
Which leads to my question for those of you reading this.  Why have buffets been essentially banned during Covid?  What is the reasoning behind this?
To be clear, Iceland has been and is currently taking the Covid pandemic very seriously.  I have my mask on around my neck all the time here.  I put it over my nose and mouth when I go inside for anything and I wear it even outside if I am in a crowd of any type.  Everyone else is doing the same thing.
More particular to the buffet, the restaurant required – as have all the others I have been to in Iceland – masks to be worn to get in, but you are allowed to remove them to drink or eat.  Specifically, the restaurant had a sign asking people to wear their mask when they were taking food from the buffet.  And all followed that request.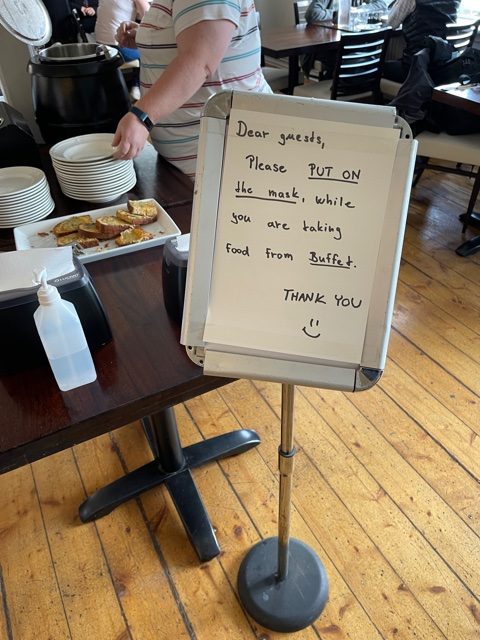 So, back to my question.  Why, if everyone who is serving themselves from a buffet is wearing a mask while doing so… why, why does this not make a buffet a safe way to eat a meal?  In addition, they asked people to be mindful of giving each other 3 meters or 3 feet of room.  Usually only one person was at the buffet table at a time.  There was not a bunching of people there.
So, unless I get a good answer back, I say let's all get behind a movement to bring buffets back.  I can hear it now being chanted.  Bring Buffets Back.  BRING BUFFETS BACK.  BRING BUFFETS BACK.  YES!!!