I had an experience this weekend that brought back a lot of memories.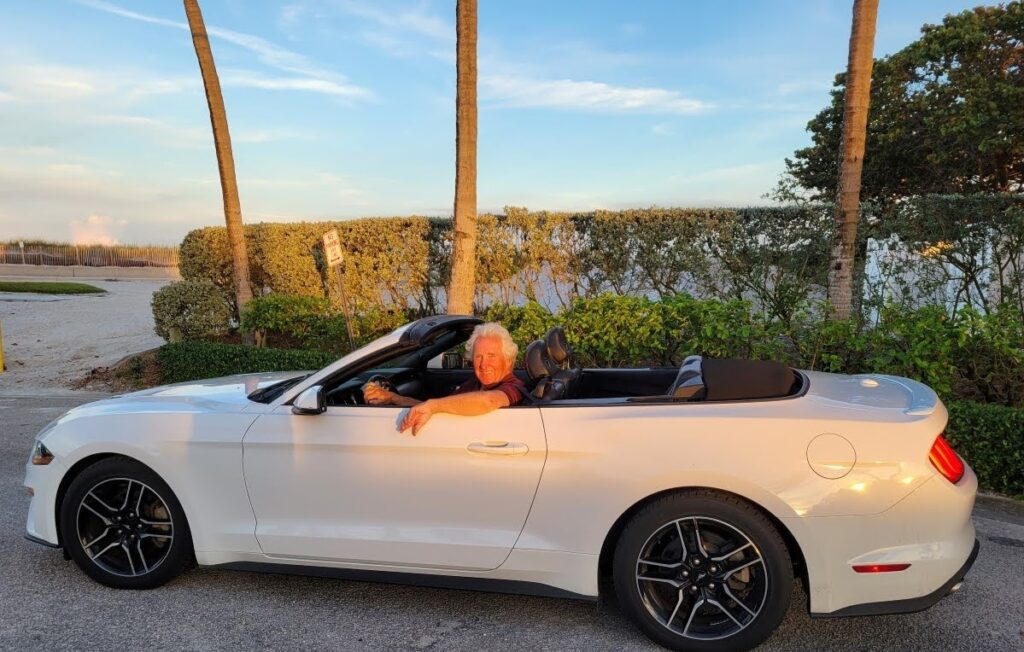 I rented a Ford Mustang convertible.  Yes, siree.
I have rented so many cars over the years that when I rent from Hertz I am part of what is called the President's Circle.  All this means is that instead of a car being assigned to me, I get to pick the car I want from a number of cars that are parked in the "president's circle."   Almost always the choices are very mundane.  A sedan from Toyota or Honda; a small CRV from another company.  But never a convertible.  Never a Mustang.  And never a Mustang convertible.  And never, never a white Ford Mustang convertible.
On top of this I was picking the car up at the West Palm Beach airport in Florida, planning to spend the Thanksgiving Day weekend with my sister and brother-in-law, Judy and Harold.  The sun was shining brightly, and the temperature was in the high 70's, and I was in Florida.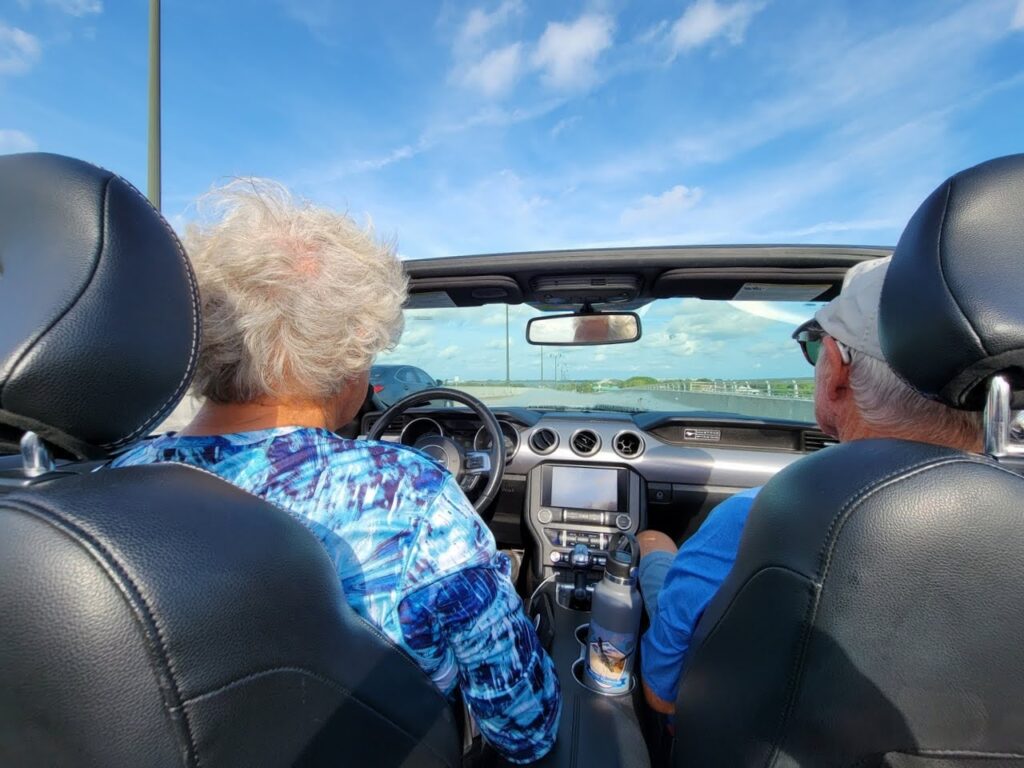 Why not, I say to myself.  why not pick the Ford Mustang convertible instead of the traditional rental car.
The first thing I do I try to get into the car.  This is not easy.  I learned very quickly that there is a way to do this, and a way not to do this.  Bottom line, I put my rear end in the driver's seat first.  I did this facing sideways, not facing forward.  I then lift my right leg into the car, and then I lift my left leg into the car.  It is a three step process, but it works.  I found out the hard way that to put your legs in first does NOT work.
The next thing I had to do was to figure out how to put the top down.  Holy cow!   It has been over 50 years since I put the top of a convertible down.  I fumble around.  I try a bunch of buttons and knobs.  All to no avail.
Getting frustrated I do something that I never do.  I actually opened the glove compartment, reached in to get the car's manual.   I never, never look for instructions, much less read them.  this is really unusual for me.
I look up in the table of contents how to work the convertible top, and open the manual to pages 126 and 127.  Here is where I learn that there is a certain button over the rear view mirror that I need to push and keep pushing.  This is after I unlock the top from the frame over the front window of the car.  If this is done correctly, the windows in the rear seat and the windows in the front seat will lower also.  Amazingly, if done correctly, I will not have to get out of the car and secure the top down so that it will not blow away.  All of this can be done while sitting in the driver's seat.  Amazing!
Top down, windows down, sun beaming, hair blowing in the wind, I start the motor and take off.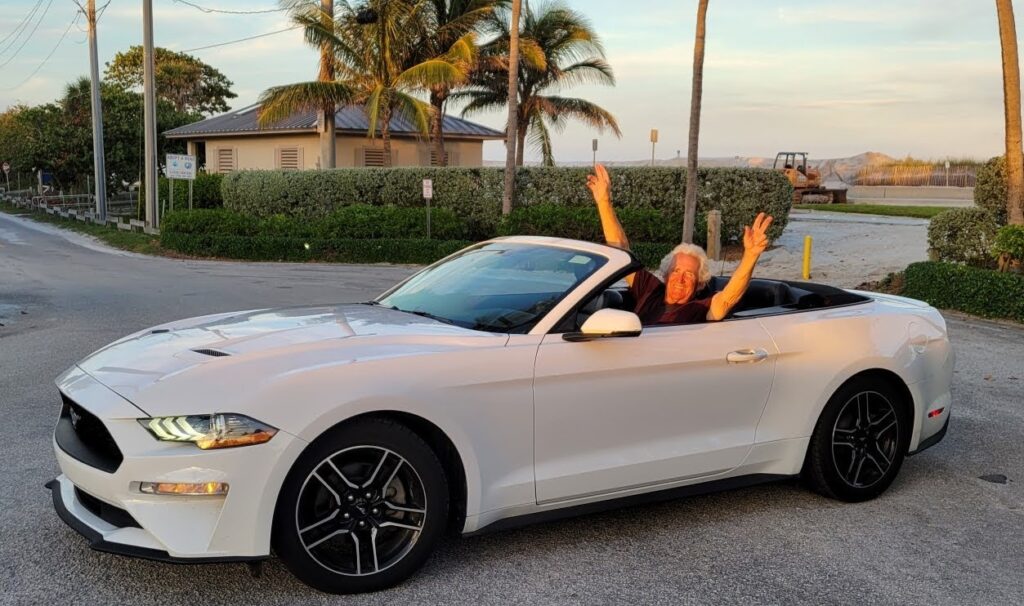 What fun!  I drove it with the top down all weekend and had a blast.  I loved it.
This experience brought back some vivid memories for me.  A couple stand out.  One, my first car ever was a Ford Mustang convertible.  Admittedly it was red, not white, but nevertheless it was my first car.  This was some 60+ years ago.
Ford came out with the Mustang in 1964.  It was at the time a very hot item.   It was cool.  I was so fortunate to get a car, much less a Ford Mustang.  My parents gave it to me as a combination gift for my 21st birthday and Christmas that year as well as a reward for graduating from college.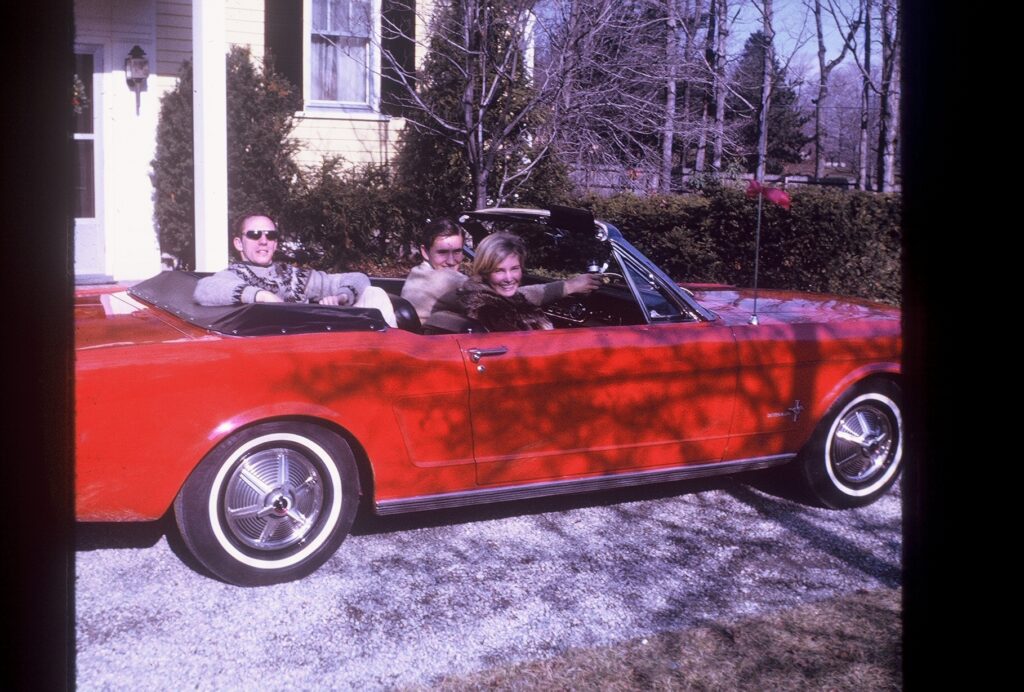 This was back in the day when what car you drove was really important. It was your way of telling the world who you were, or, more accurately, who you wanted the world to see you as.  This was back in the day when what car you drove was really important in your success, or lack thereof, in attracting women.
True, it was not a Jaguar XKE, not a small foreign sports car, not a Chevy Corvette.  But, still, it was pretty cool, and I wanted to be cool.  I loved my first generation, red Ford Mustang convertible.  Here are some pictures of it from way back when.  Some almost 60 years ago.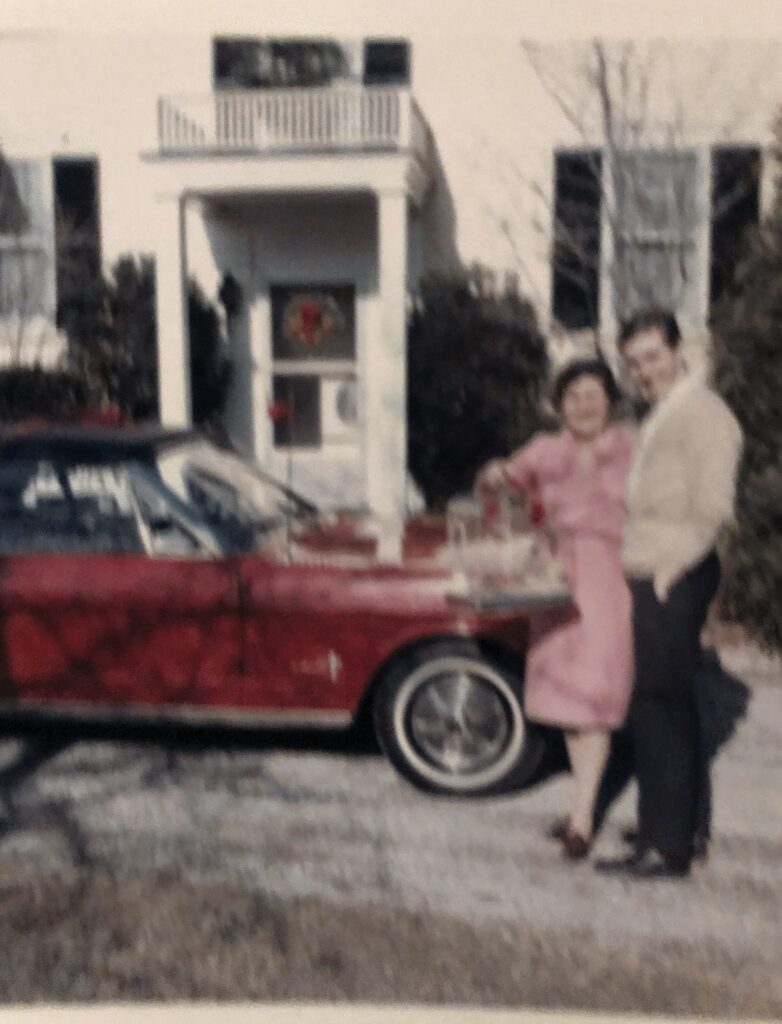 The second memory that this past weekend's driving of a white Ford Mustang convertible brought forward for me was about Ellen, my first wife.
Some 50 years ago is when I fell in love with and married my first wife Ellen, who sadly passed over a year ago.  What a kick of a woman she was.  She had spunk.  Beautiful with red hair, intelligent, quick witted, good athlete, wonderful mother of two great kids – Cynthia and Mary, and a lawyer by training (one of the first women graduates of Harvard Law School).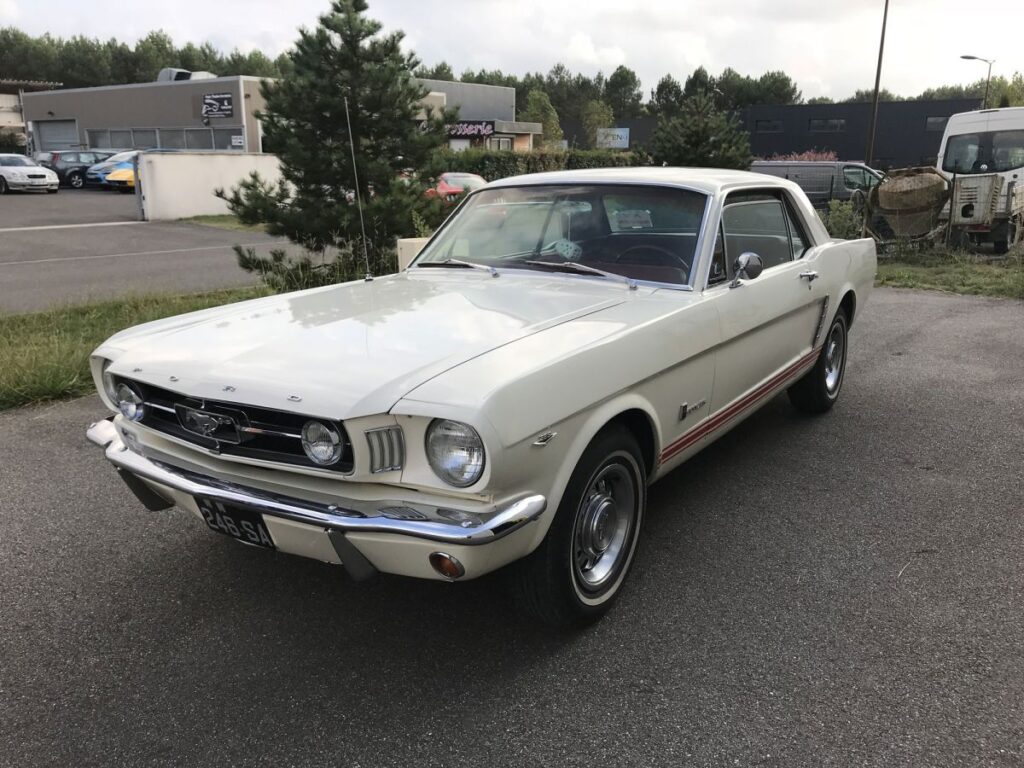 Guess what car she owned when we courted and got married?   Yes, indeed.  Her car was a 1965 white Ford Mustang.  Hard top, not a convertible.  But a white Ford Mustang with a red interior!
Is this serendipity or what?
We had some wonderful trips with her white Ford Mustang, but eventually the car needed to be replaced.  Living in New Jersey at the time, one weekend we drove it into Manhattan and parked it on a cross street near the theater district.  We left the windows down, and we left the key in the ignition.  Our hope was that someone would steal the car so that we could collect insurance and go buy a new car.  Well, to our chagrin, no one stole the car.  Unbelievable, that on the streets of New York City, windows down, keys in the ignition, and still nobody wanted the car.
Finally, months later back in Jersey, we had to pay $50 for someone to tow the car away from our garage.  That was the end of our romance with a white Ford Mustang.
So, you can see, this past weekend was not just a joy ride, driving around the beaches of Florida, top down, hair blowing in the wind.  No, this weekend was really much more than that.  It was about remembering and reliving to some extent the red Ford Mustang convertible, my first car ever, and the white Ford Mustang that Ellen brought into our marriage.
Pretty powerful stuff, I must say.
Thanks for listening.  I must say that I am getting teary eyed just writing this.  A lot of great memories. A lot of emotional times.
What a white Ford Mustang convertible will do to you…