all,
after spending the night at the truck stop with the engine running and no air conditioning, what happened?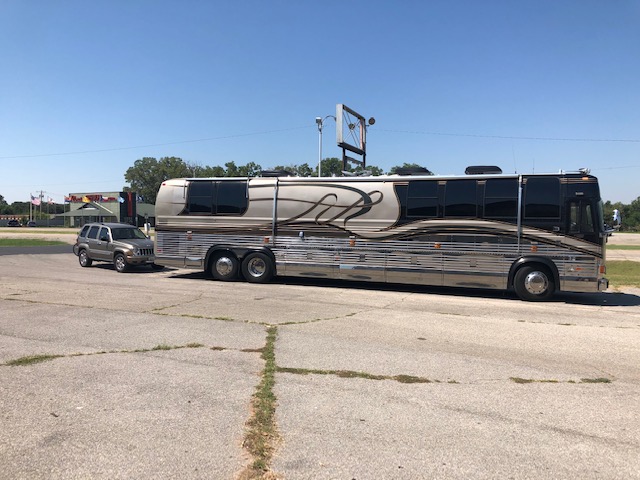 up at 5:30 am and on the road by 6 am with my motorcoach, never having dared to turn the motor off for fear that i would not be able to get it started again.
within 2.5 hours i am in Phoenix finding a truck repair facility that Mike Semple has researched and called ahead on my behalf.  can they diagnose and fix my engine starting problems?
they ask me to unhitch my car which i do, and then they get to work on my motorcoach's engine.  that is the good news — somebody with some expertise is looking at my engine problems.
the bad news is that i am cooling my heels for the next 8 hours in their customer waiting room/lounge. can you imagine?  and patience is not one of my strong suits.  but i do it.
at 5:30 pm i get my coach back and they tell me that they have fixed the problem, which was a faulty fuel pump.
one problem down, but a few other problems still are facing me.
the driver's air conditioning unit has stopped working.  this is important to provide some relief to the driver (that's me!) given the very hot conditions.  my solution to this one is to grin and bear it.  i have a big red and white towel that i have on my lap as i drive the motorcoach.  i use it to wipe the sweat off my face from time to time.  my shirt is totally drenched from sweat.  when i get to Branson, hopefully i can find a technician who can help solve this problem.
the generator still is a problem.  whether it is failure to start or unable to produce enough power to carry the load of an air conditioning unit or two.  my solution to this one is to similar to the strategy as outlined above for the driver's air conditioning unit.  grin and bear it, but plan when i get to Branson to find a technician to work on it.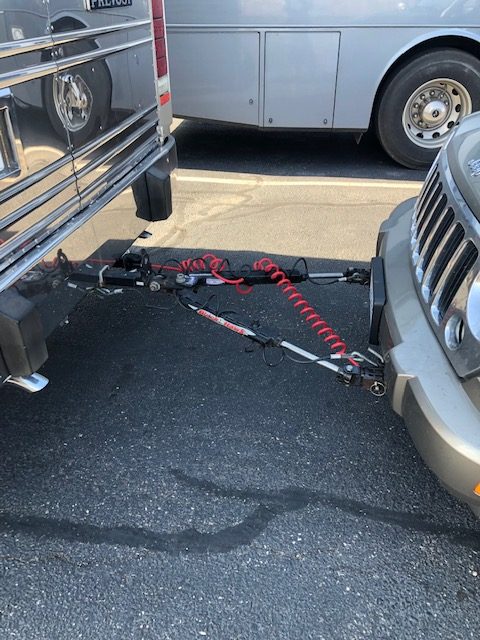 finally, there is an issue with the electric cord that transmits signals to the tow vehicle about when i put on the brakes, when i plan to take a left turn, etc.  the cord that i have somehow becomes disconnected from the motorcoach while i am driving the next morning — the morning after the engine fix in Phoenix.  the cord not only gets disconnected, it gets mangled.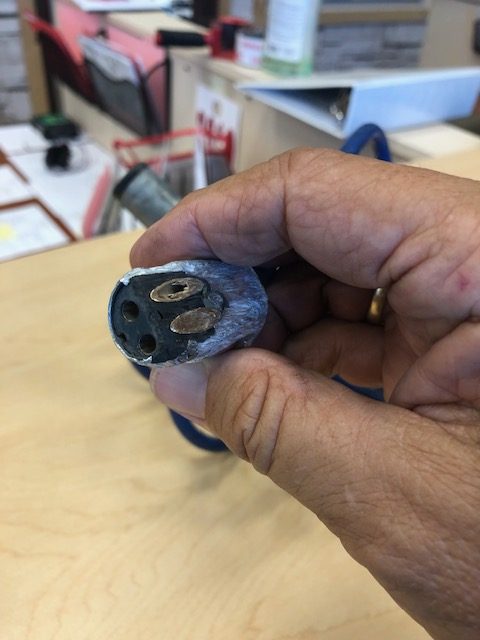 without the cord working properly tails lights on the trailing vehicle, my 2007 Jeep Liberty, do not function properly — i.e., when i begin to signal a left hand turn in the coach, the  lights on the Jeep Liberty should start blinking to show a potential left hand turn.  they don't.
i find a Camper's World in Albuquerque but they can't do the work today, the day after my 8 hour delay in Phoenix.  down the road from them, is a company called Mesa RV.  they are able to get to it today.  my wait there is only for 3.5 hours.  they install a totally new electric receptical underneath the back bumper on the coach.  before i head out again driving the coach east, i double check with the technician and his boss that the fix works — i.e., the left turn signal on the motorcoach is duplicated on the trailing car.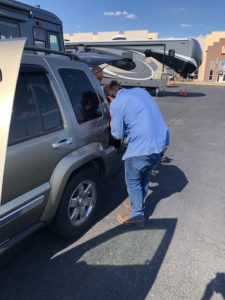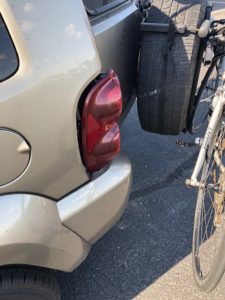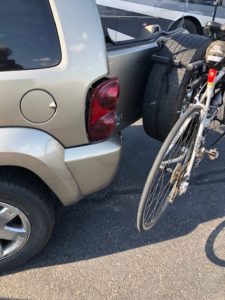 guess what?  the lights on the Jeep Liberty that is being towed do NOT duplicate the signals on the motorcoach.  no, sirree.  they don't.  even after all this work, the situation has not changed.
to their credit, they are as upset about this as i am.  they examine the tail lights on my Jeep and come to the conclusion that the wiring for the tail lights must be screwed up.  and to fix that i am going to have to find a Jeep Liberty expert.  Mesa RV does not have that expertise and in addition they are closing and the technicians are on their way home.
once again it is 5:30 pm and i am on the road again.  heading east on Interstate 40, praying that cars and trucks behind me will see the lights of my motorcoach as i brake and give turn signals.
so far every day has been filled with mechanical problems of one sort or another.  the good news is that tomorrow, i will report on something that has nothing to do with mechanical issues — my visit to the Oklahoma City National Memorial and Museum, honoring those who died as well as the survivors and rescuers of the second worst terrorist attack on Americans soil in our history (9/11 being the worst).  stay tuned.