over the last few years i have really gotten into walking tours.

 

even in locations and communities that you think you know like the back of your hand.
the reason?

  

continuing curiosity.

  

the continuing revelation that there is so much to learn, experience and understand, and that by learning more and by being exposed to more, it makes an impact on you.

 

on who you are.

 

it helps round you out.
and who to learn more from than a local.

 

and how to learn more than by walking.
my kids and I have really gotten into walking tours.

 

every time we get together, no matter where, we arrange a walking tour of some area.

 

 

for example, my son, Guy, who lives in San Francisco and i have taken a walking

 

tour of the North Beach area of the city.

 

My daughter, Kelsey and I took a tour of oyster farming in Marin County just north of San Francisco.

 

both my kids, my step son, HP, and my son in law, Brian, have taken walking tours of the Mission District and of the Castro District in San Francisco.
recently, my daughter and son in law and I took a walking tour of the Park Slope area of Brooklyn.

 

Previously we have done Little Italy and the Upper East Side.

 
this July 4th, we took a walking tour of Pike Place Market in Seattle.
yesterday, PJ, Tom and I took a walking tour of Venice.

 

it was terrific.

 

we learned so much.

 
we learned about the phenomenal

 

history of the Venice Republic, the history behind the incredible Basilica of St. Marks, how the salt of the sea eats away at the bricks that all the buildings are constructed with, why there are cisterns in every campo (plaza) in Venice, where the people who live in Venice spend their time, and what is happening to Venice as four people each day leave the city.

 
Nicolette was our walking tour guide, and she told us about her situation which is not atypical.

 

she and her husband do not live in old Venice,

 

the one we think of.

 

they live on the mainland part of Venice (Mestre), where they have a home that accomodates their two small children and themselves.

 

a home that cost less than half what it would cost to live in old Venice.

 

they have a garage for their car which husband who works in Padua, which is 30 minutes in land from Venice, needs to get to and from work.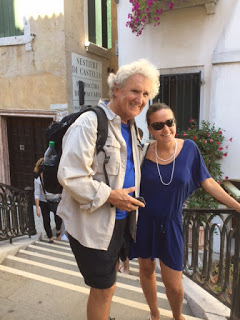 our guide in Venice, Nicolette, was a great walking tour guide for us for several reasons.  first of all, she was enthusiastic about her home town.  second, she was really well educated.  third, she was fluent in three languages, including English.  fourth, she was charming.  she had the three of us wrapped around her little finger very quickly.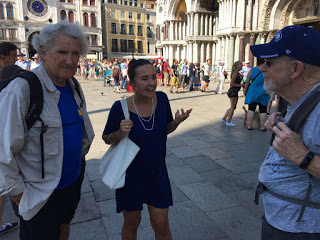 our lives have been enhanced by a walking tour with a good guide!