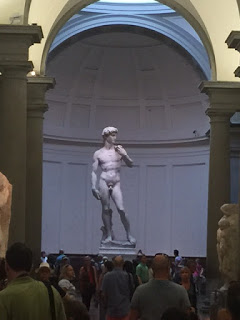 what can you say about Michelangelo's work that has not been said.

 

it is breathtaking.
I have seen his most famous work –David — three times before in Florence.

 

Yesterday was the fourth time.

 

and yet I still am in awe every time I see it.

 
yesterday, PJ, Tom and I went to the Galleria della Accademia to see Michelangelo's David.

 
it is mesmerizing.

 

it is awe inspiring.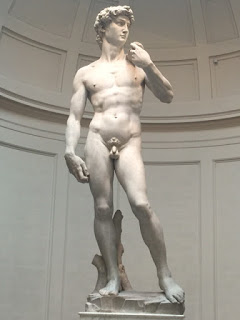 in addition to the exquisite work of art, the amazing sculpture itself, the David statue speaks to so many significant issues.

  

for example:
the Biblical story behind David is such a great one.

 

how this young man with his cunning and intellect was able to slay the giant Goliath.
the role that this one sculpture played in the history of Florence, where it stood in front of the Palazzo Vecchio as the symbol of the new approach to civil liberties for its citizens and for the world.

 

an approach that was more open and free.

 

Now, a copy stands in front of the seat of the government of Florence (Palazzo Vecchio), with the original in the Accademia for protection from pollution and potential vandalism.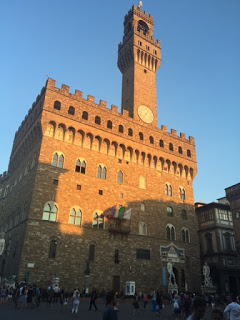 the importance of this one sculpture in the dawn of the Renaissance, and the end of the Middle Ages.
the focus on the anatomy.

 

Michelangelo was a very serious student of the anatomy.

 

he had special permission to dissect

 

the bodies of dead Florentines just so he could learn more about the anatomy.
the breakthrough that this statue represented in the display of nudity, in the humanization of a hero.
Michelangelo was only 26 when he was commissioned to do David.

 

he only took three years to do it. and he continued working until his death at the age of 89.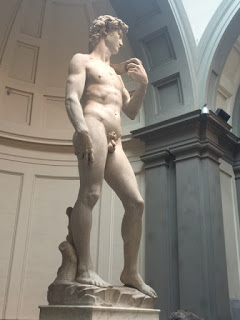 words cannot do this artistic work justice.