What a surprise this little town of 13,000 residents has been to me.  For so many reasons.
First, this town like several others in southern Wisconsin is populated by residents from one or another European nation.  Immigrants from Norway flocked to Stoughton starting some 160 years ago.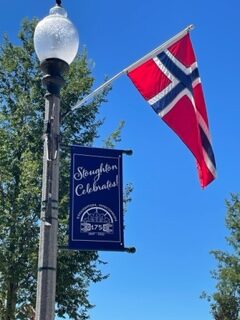 Some 800,000 or 1/3rd of Norway's population emigrated to the United States between 1825 and 1925.  Norway went through some tough years as their agricultural economy cratered, some overpopulation, some religious persecution as well as some war issues.
To give you some idea of how much they residents of Stoughton WI value their Norwegian heritage, their main street is lined with street light poles all with an American flag flying proudly.  However, every other pole has a Norwegian flag flying.  Yes, siree.  The American and the Norwegian flags alternate all the way down the main street, and on both sides of the street.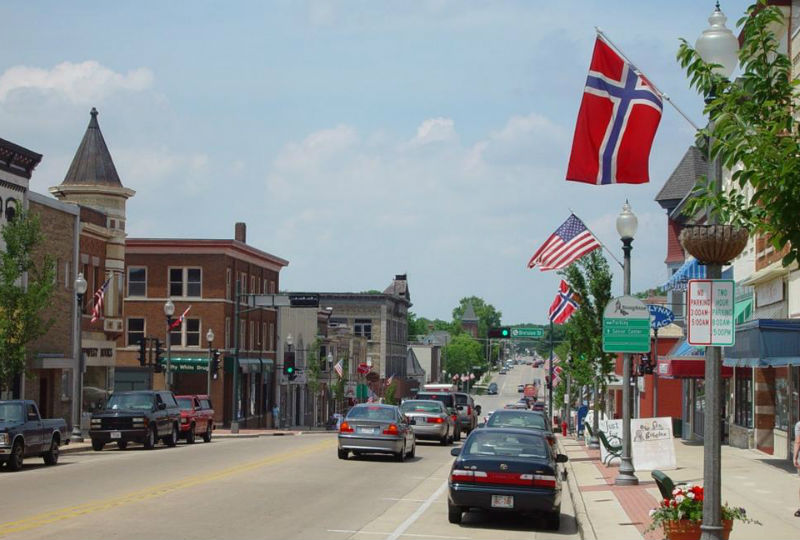 Second, what nice people live there.  OMG.  No matter where I went, and I went to all of these – City Hall, the Stoughton Public Library, the Opera House, the Norwegian Heritage Center, the Koffee Kup restaurant, the Next Generation of Stoughton (the local toy store), Cheesers (the local cheese store), the Chamber of Commerce, and the Stoughton Historical Society and Museum – each person I met and came into contact with was so nice.  It was striking.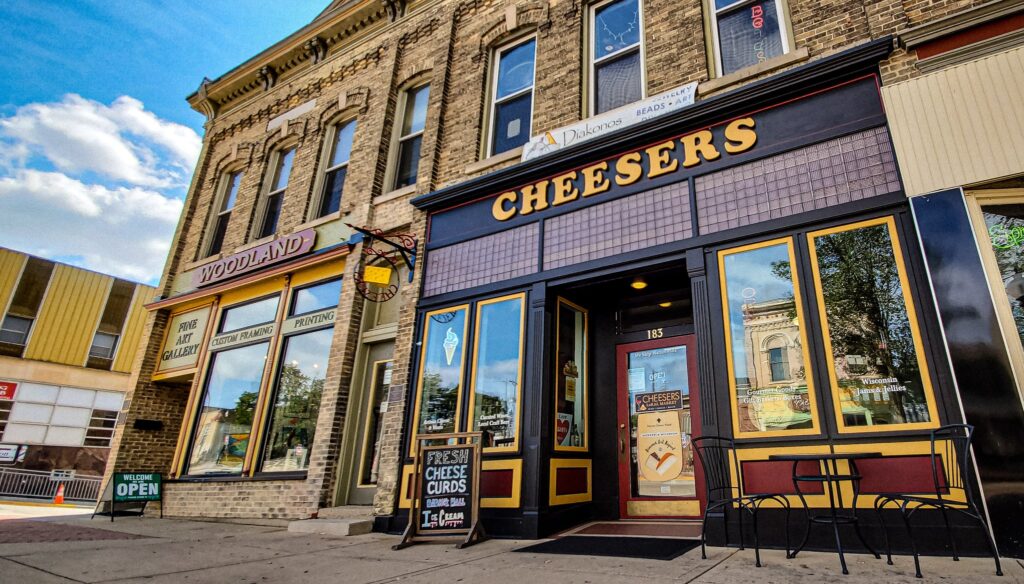 Third, Stoughton is the birthplace of the coffee break.  Back In 1871 the major industry in Stoughton was tobacco, and the principal business was located on Coffee Street, lead by a Mr. Osmund Gunderson.  He needed to hire men to do the sorting/grading of tobacco in his warehouse, but he could not find enough of them.  He needed workers.  In desperation he pleaded with the women living on Coffee Street to come work for him sorting tobacco leaves.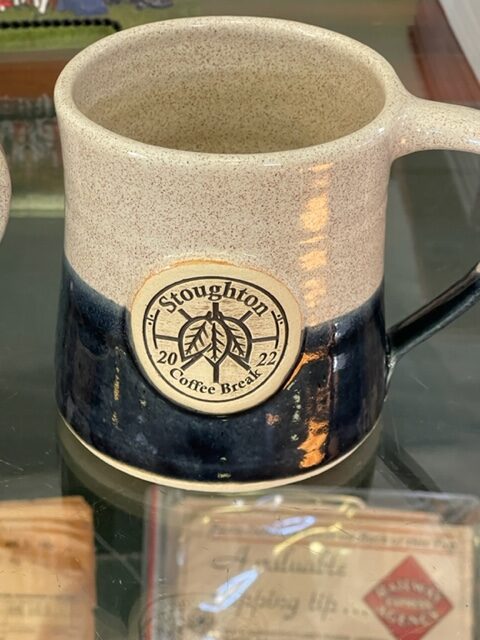 To these immigrant women this was a new concept, working away from their homes and away from their children.  They said they would do it, if, and only if, Mr. Gunderson would allow the women at specified times during the day to go to their homes to have a cup of coffee, check on the children and prepare the family's next meal.  "Give us a coffee break!" they said loud and clear.  Stoughton is where the coffee break originated.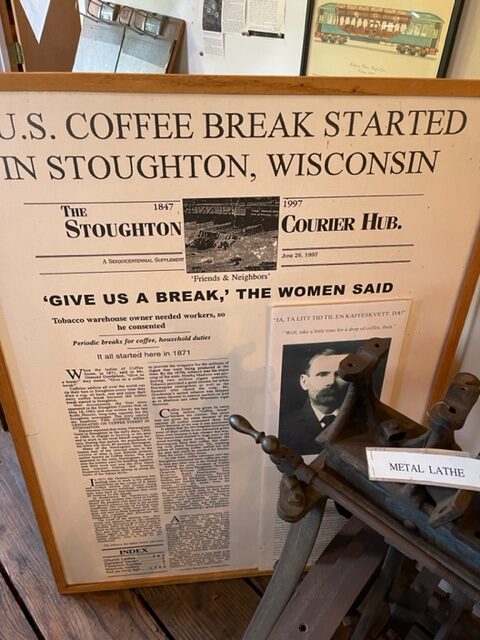 Finally, even though Stoughton is primarily a Norwegian community, it was founded and started by an Englishman named Luke Stoughton, whom the town is named after. Coming from Vermont, having a vision of a potential community in this location, Luke purchased 800 acres for $2.60/acre and founded Stoughton in 1847.  He platted the land, built a sawmill, gristmill, opened a general store and encouraged others to settle in the new town.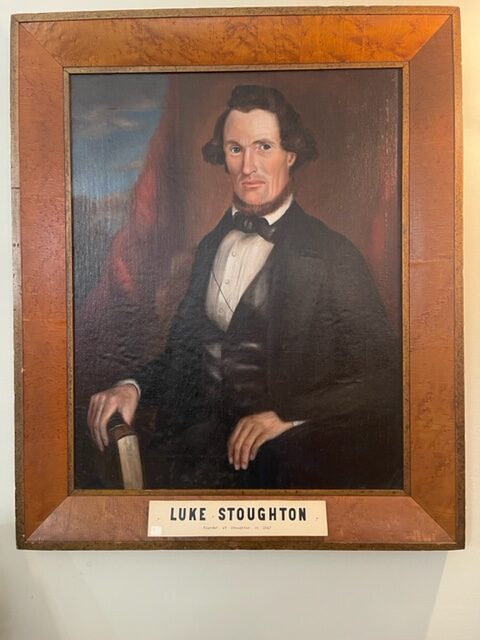 Guess what?  Luke Stoughton and yours truly are related.  My mother's maiden name is Stoughton. When I mentioned that I was a relative of Luke Stoughton, no matter whom I spoke with in town, they just greeted me with open arms.  For example, the Librarian had special research done on Luke Stoughton for me.  The Chamber official opened up the "back room" for me to see some of Luke and his family's artifacts.  The local toy store and cheese store gave me special discounts.  Here i am standing in front of Luke Stoughton's home.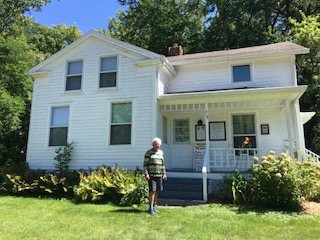 But most importantly, the Norwegian Heritage Center staff after their work day was completed, got special permission to open and accompany me to the nearby Stoughton Historical Society Museum.  This was really special since the Museum is closed everyday except on Saturday between 10 and 3.  And this was a Wednesday.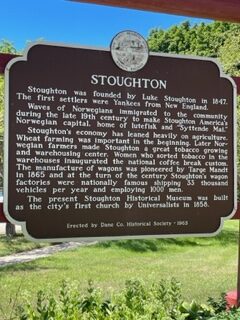 Bottom line.  What a great little community in the Heartland of this country.  And, I learned that I have Midwestern roots!