Before we leave the Sahara Desert, I have to talk about the nomads.
By definition, a nomad is someone who continually moves from place to place — a wanderer.
We got the chance to visit a nomadic Berber family while we were in southwestern part of Morocco in the Sahara Desert. It was quite different from what I had expected.
While nomads move, they don't necessarily move every night. I had pictured some temporary camp situation that was a stop on the way to somewhere else.  Something like a one-night camping scene.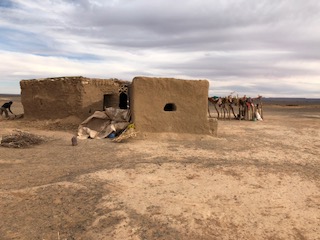 However, what I found was an encampment. Something that was clearly far more than a one night stay.  The family we visited had constructed a couple of mud huts to sleep in.  Clearly, they were there for a while.  But they will leave and move on when they have to or want to.  It may be because of weather, or the need for water, or for the need for plants/food for the animals to graze on, or who knows.  But they will move on.
Having said that, their encampment was not insubstantial. Two mud huts as I mentioned above, along with two tents.  One for relaxing as a family, and one for eating meals.  The floors of all the tents and the mud huts are of sand and dirt, but covered with rug after rug after rug.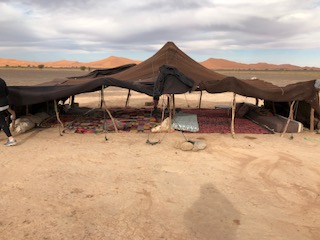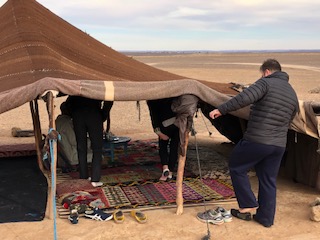 In addition, there are other "structures" a few hundred yards away from the main huts. One for cooking, just a mud enclosed fire which doubles as an oven. 
Sticks are laced around it to provide some sense of its place in the never-ending desert, fanning out in all directions.
Another structure is the outhouse, which is placed some distance away to keep the smell away from the sleeping and eating areas.   Other semi structures include the animal "pens",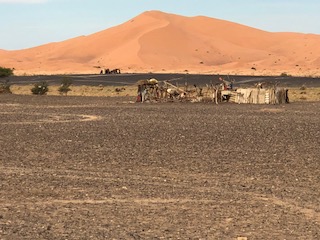 which include a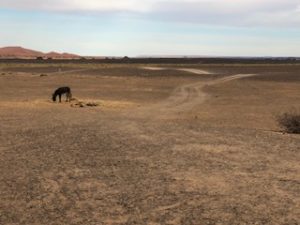 rope to keep the donkey from wandering off and some kind of makeshift interlaced stick fence to keep the goats corralled.
And most importantly there is a well with water somewhere within range to be able to access on a regular basis.
The family we visited consisted of two brothers and their wives along with their four children. They seemed content and busy, either tending to repairs of the mud huts, or getting water, or making the meals for the family.  The kids were active and playful, seemingly very happy.  Typical young kids.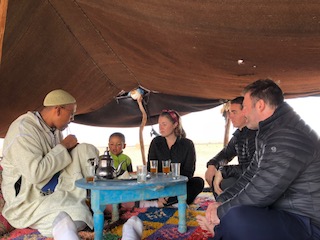 What was most impactful to me was that time did not mean anything to them. There was no reason to hurry.  No deadlines.  No targets they were trying to meet.  As difficult and harsh as their existence is, there was something about it that was somewhat intriguing.