In Arabic, Insha'Allah means God willing.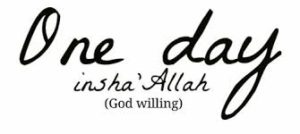 It is a wonderful way of saying…may good things happen to you
And that is my wish for each of you, my readers.
I hope that you have enjoyed these blogs about our Moroccan adventure.
I have enjoyed writing them.
Although I have written 20 blogs about Morocco, I am struck by how many topics and adventures that I did not write about, but wanted to. For example, the Moroccan economy, its history, its politics, its fashions, its jinn's (evil spirits), its date palm trees, its argan trees and tree goats, its Kasbahs, its movies, the art of henna, and many others.
Our trip is over and so this is my last blog about our Morocco 2017 trip.
Stay tuned, there will be further blogs about new adventures and new experiences.
Insha'Allah