When you have no rooms reserved, no car reserved, no cell phone, no internet and no itinerary for a two week vacation in Cuba?
The answer, you meet Pepe (the gentleman on the right).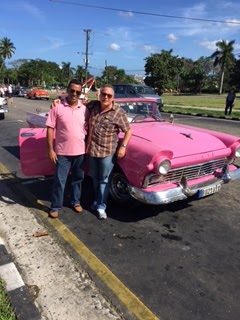 Pepe represents the people of Cuba. He is one example of the unbelievable kindness and generosity exhibited by the people of Cuba.
How did we meet Pepe?
For weeks prior to our trip to Cuba I attempted to find lodging using the internet and making phone calls. I was unsuccessful.
There are no American hotel chains in Cuba.  No Marriott, no Hilton, no Holiday Inn, no Four Seasons. The hotels that do exist in Havana were completely full. The reason being that the Christmas holiday season is the busiest time of year for tourists to travel to Cuba. The only room that I could find on the internet search was a room at the iconic National Hotel. The room was available if I was willing to pay $1,000 per night.
With no hotel rooms available, my search turned to Airbnb and to Cuba's own Casas Particulares. Given that tourism is the number one economic engine in Cuba today, the Cuban government has begun to allow private homeowners to rent out rooms in their homes. This is important because there is not enough hotel inventory to handle the number of visitors to the island country. (Casas Particulares are designated by the up side down anchor shown below).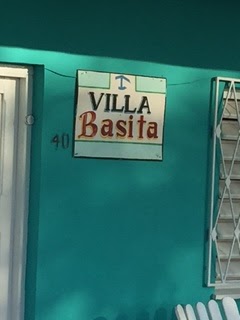 It is also important to each individual family because, once they have met the government's regulations to qualify as a Casa Particular, they have the potential of receiving $25-35 per night per room. This is very significant for a family that has a monthly income from each wage earner of $25-30 per month.
Again, I ran into a problem as I tried to reserve a room in a Casa Particular.  They were already reserved. I was late to the party. I could not find one in the Old Havana or in Vedado sections of Havana.
Finally, with only a few days left before our trip to Cuba, I was able to secure a reservation at one Casa Particular in the Vedado section of Havana, but only for one night, our first night.
So, my son Guy and I took off for Cuba without a place to stay after the first night. We also wanted to rent a car to see other cities in Cuba outside of Havana, but were unable to find any car rental using the internet.
This is where Pepe comes into the story.
Our host in our Casa Particular for our first night in Havana was Pepe.
He just took Guy and me under his wing. He took it upon himself to make sure that we had a place to stay every night we were planning to be in Cuba. He would not stop working to make sure that we had a wonderful time in Cuba. Pepe's spirit and enthusiasm were amazing. He was so generous with his time. And he was so nice to go way out of his way to ensure that we had a place to stay everywhere we went.
In addition, Pepe gave us great advice about what to do, what to see. He helped us develop an itinerary for our stay in Cuba.
Pepe never stopped helping us for the entire time we were in Cuba, which was 11 days. He did this even though we only spent one night in his home.
Not only did he arrange housing for us in every town we went to, but he also found us a car and a driver for our three day trip to the eastern part of Cuba, and the cities of Cienfuegos, Trinidad, and Santa Clara.
Later he found us a driver and car for our three day trip to Vinales in western Cuba.
Thank God for Pepe!!
The best thing we did in Cuba was stay in individual homes of Cubans. This allowed us to meet Cuban families in their homes. This allowed us to get great local advice. During the 11 days in Cuba we stayed in 8 different Casas Particulares.