If you want to get off the grid, a popular spot to do so is Slab City.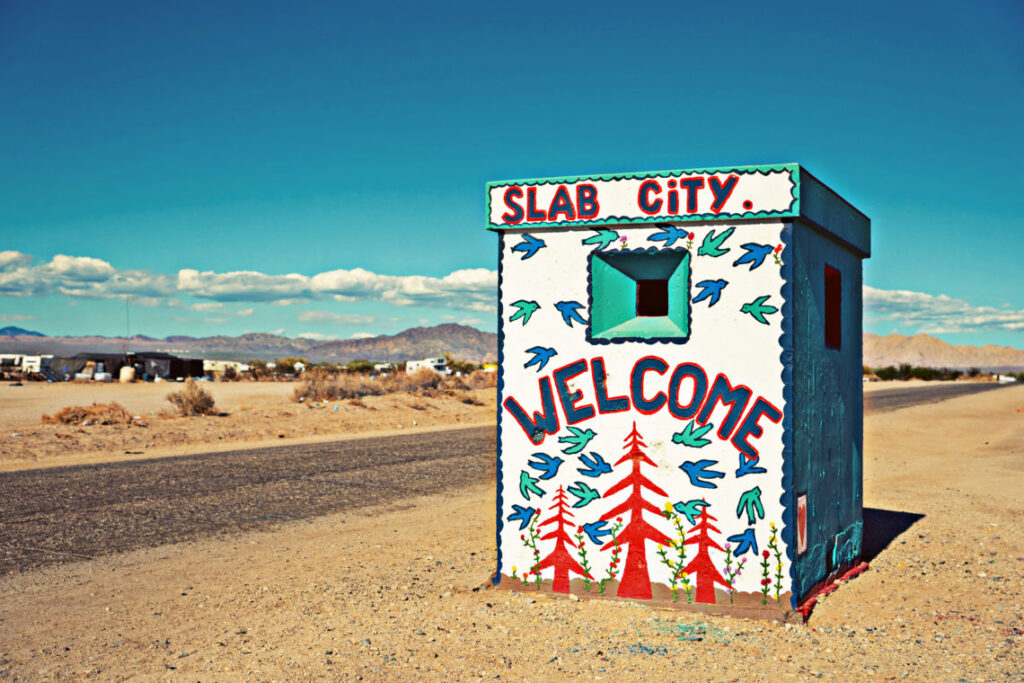 Slab City sits on some 640 acres owned by the State of California located in the Sonoran Desert 12 miles east of the Salton Sea, the largest lake in California, some 35 miles long and 15 miles wide.  To call it a "City" is stretching the normal use of the word.  It is unincorporated.  It has no mayor, no city manager, no public works department, no sanitation department, no police department and no fire department.  To my knowledge no taxes are imposed or collected.  No one pays rent to stay on the land.
It takes a while to get there.  it is 180 miles from the Los Angeles, 150 miles from San Diego, and 260 miles from Phoenix.
How Slab City came about is an interesting story.   The concrete slabs were built in 1942 for the Marine Corps' WWII Camp Dunlap.  The Camp was used during the war, but by 1956 all the buildings and structures had been removed.  Only the concrete slabs remained.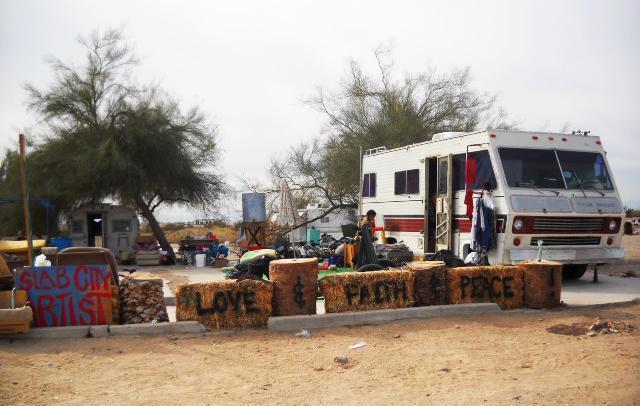 I don't know exactly why I am so fascinated by Slab City, but I surely am.
Whenever I have out-of-town visitors I always suggest that we take a full day and go see Slab City.  Slab City is only a one hour and 30 minute drive from the area where I live part of the year.  However, by the time I include in the day's itinerary other spots such as Bombay Beach, the Salton Sea, East Jesus and Salvation Mountain, the trip takes a full day.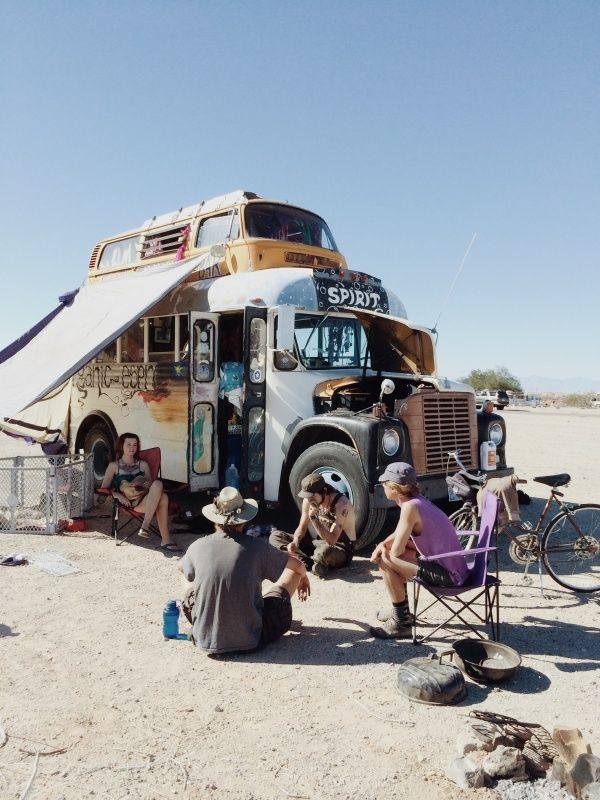 What is it about Slab City that so sparks my interest?  And, it is not just a passing interest.  I have visited Slab City at least twice or three times a year for the last 15 years.  I have not grown tired of it.  if someone walked up to me right now and said do you want to go to Slab City, my answer would be "Hell yes.  Your car or mine?"
i am intrigued by the fact that most people would never want to go to visit Slab City.  I am in awe of the ability of the "residents" of Slab City to exist, given the lack of electricity, water, sewer, and other amenities.  also to survive given the temperatures that average over 100 degrees for four months in the summer, and also given that the annual rainfall hovers around 2.8".   the census of 2020 estimated that upwards of 4,000 people live in Slab City in the winter, and that in the summer that number drops dramatically to less than 200.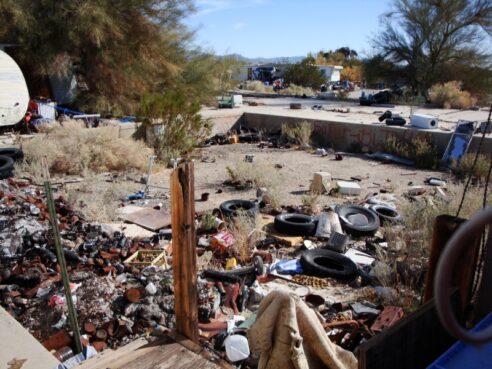 In addition, there are a few other drawbacks to Slab City.  There is trash, debris and waste littered around many ramshackled structures.  There is at times a smell from that and the nearby Salton Sea.  Drugs are clearly in use.  Bottom line, it is a little sketchy and not a place where you would send the kids out the front door to go play.
On top of all this, just 15 miles to the east of Slab City is the military's Chocolate Mountain Gunnery Range (CMAGR) which at any time day or night is an active practice range with bombs exploding and guns firing.
The "residents" include a hodgepodge of campers, homeless, drifters, snowbirds, migrants, squatters, artists, survivalists and people just wanting to get away from everything and everyone.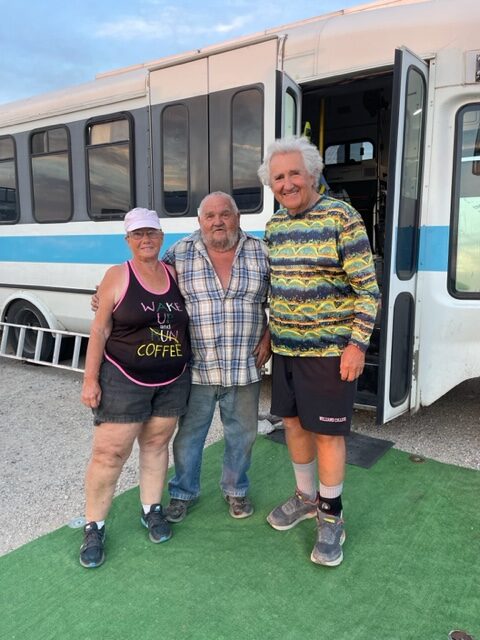 Nevertheless, I am fascinated by the ever-changing community of Slab City.  It never stays the same.  I look forward to knowing that the people I will meet in Slab City will be a different experience for me every time I go there.  When I am in Slab City I find myself almost in a meditative state.  For some reason everything slows down. It becomes a time for reflection, at least to me.
For all these reasons, I can't get enough of Slab City.  No, I have no interest in living there.  none whatsoever.  However I have a real interest in learning everything I can about Slab City and its residents.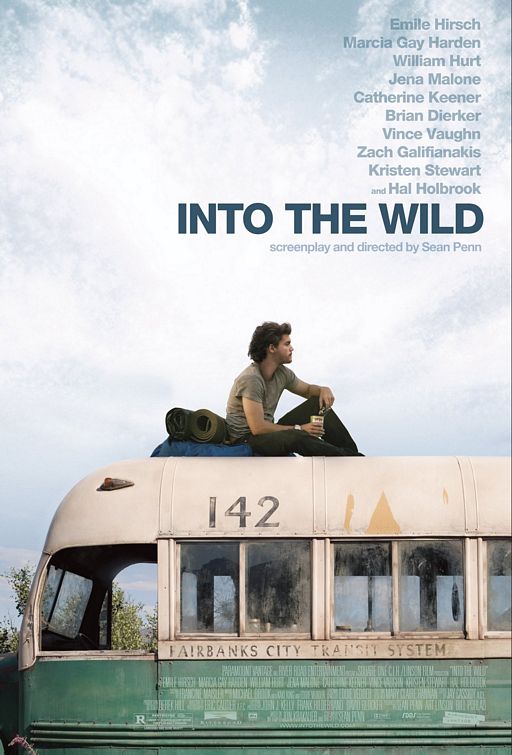 I am not alone in my interest in Slab City.  It has appeared in 21 movies, including This Place (2019), Snowbird (2016), Desert Coffee (2017), Below Sea Level (2008), Cactus Blossom (2019), and Slab City (1998 and 2019).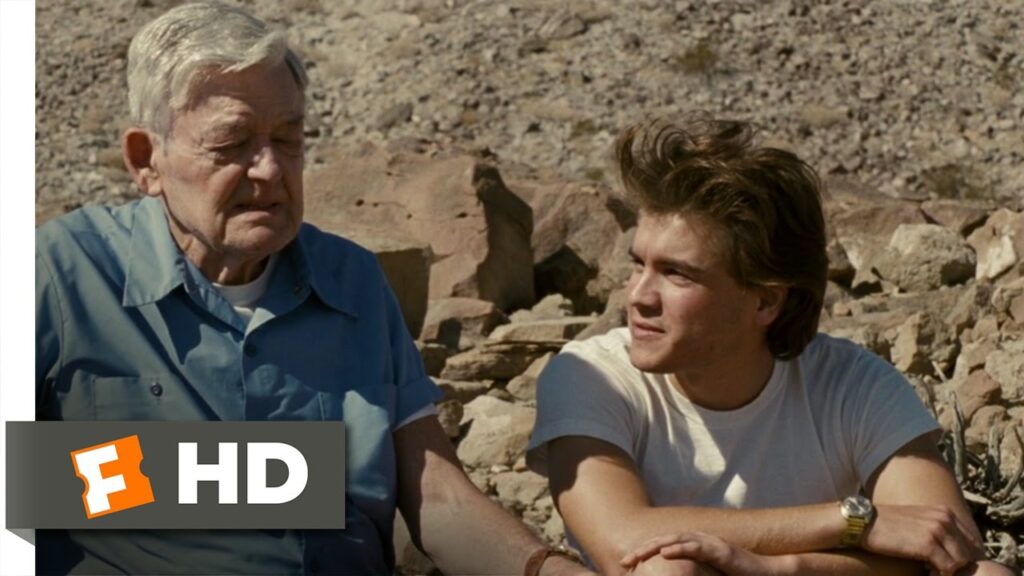 However, my favorite is Sean Penn's Into The Wild released in 2007.  Penn wrote, co-produced and directed the film which was based on a book by Jon Krakauer, one of my favorite authors.  The cast was amazing.  It included Emile Hirsch, William Hurt, Vince Vaughn and Hal Holbrook, whom  Chris, the drifter, engages with during his two month stay in Slab City.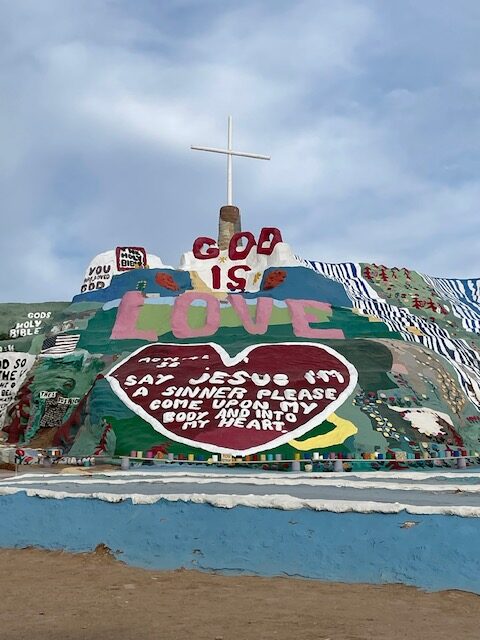 There is so much to talk about in Slab City.  I will save talking about Salvation Mountain and the outdoor art museum in East Jesus, a "suburb" of Slab City, for a future blog.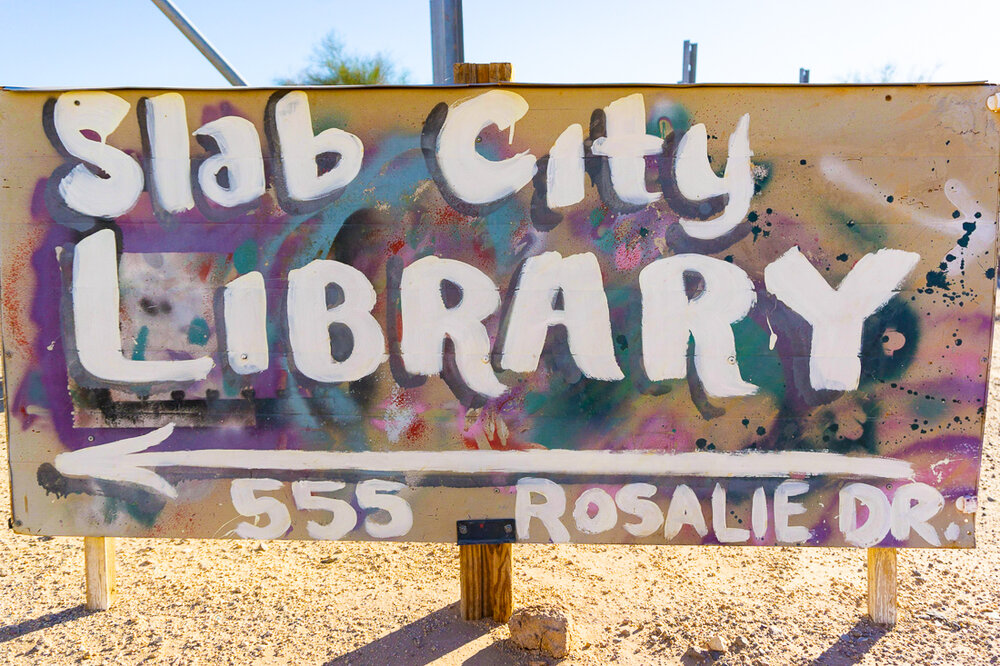 But let me tell you a little about Slab City's "library."  Yes, indeed, Slab City has a library.  It is a little unusual.  You can get a beer in the library.  The library is covered by planks and tarps but is not fully enclosed.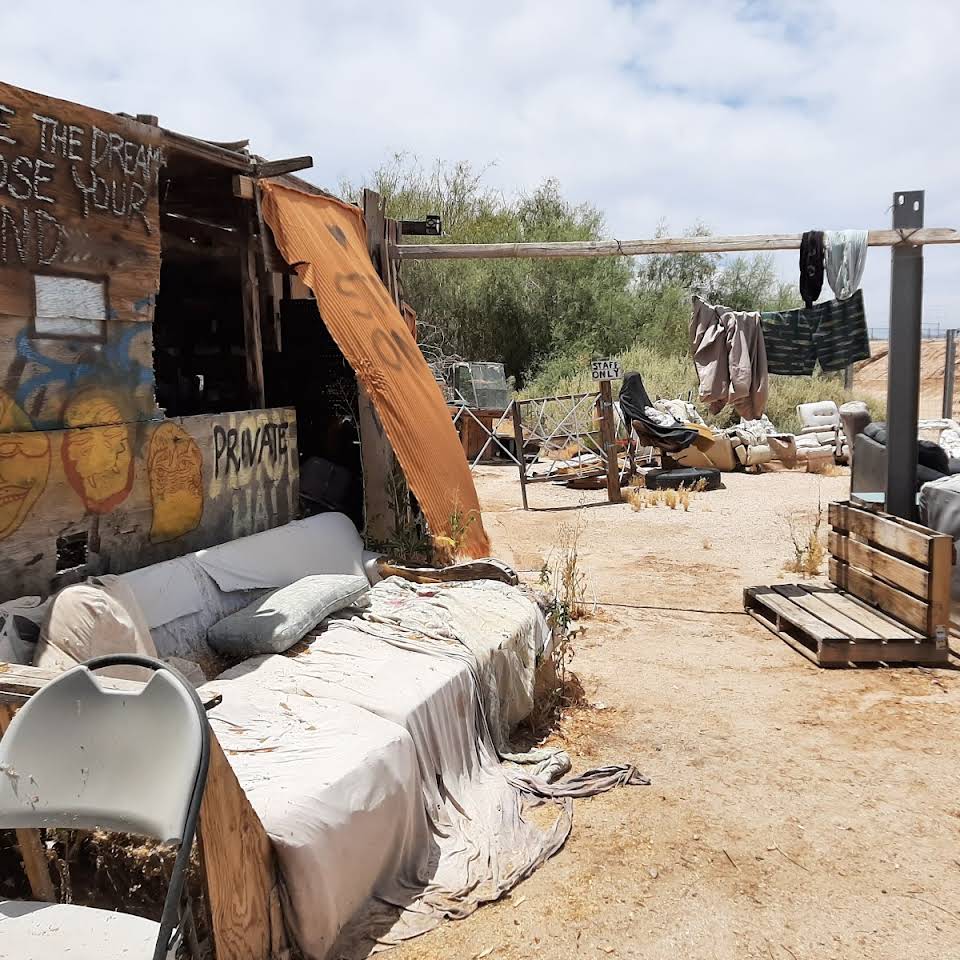 So it is subject to high winds, dust and sand storms.  If you see a book that you would like to read, you can take it with you.  No need to check it out.  They just ask that you return it, if at all possible.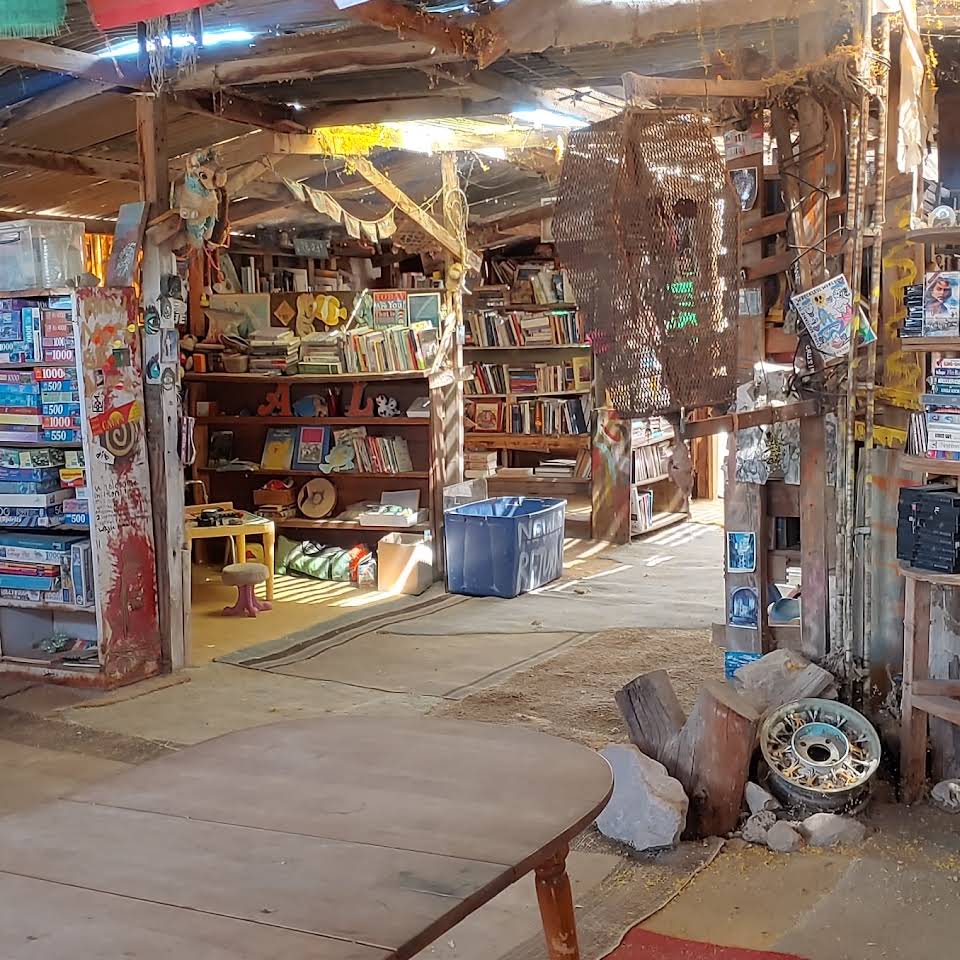 Bottom line, If you want to get off the grid, this is the place to go. It has been called a "squatters' paradise."  Others have referred to it as "one of America's last free places." Still others have called it "the end of the road" and an "enclave of anarchy."  An article in the October 2018 Smithsonian Magazine said of Slab City's population: "There are clearly people there who don't want to be found, so there's something about disappearing, and the desert offers that kind of opportunity."