to all with a sweet tooth,
gelato.  it can get no better than to have a gelato — italy's form of ice cream.
i wrote about this in some detail in my Italy travel blog (see Italy 2016 Gelato)
and my feelings about gelato have not changed since that time.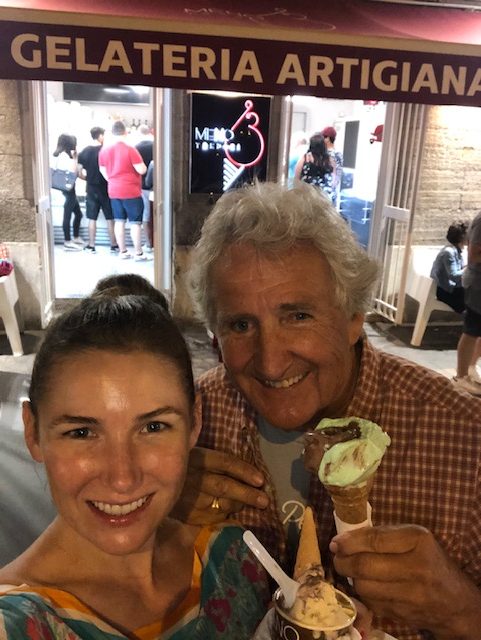 on this trip we finish our dinner, ask for the check, and then march out of the restaurant in search of gelato.  no matter where we are in Sicily this is our mission every night after dinner.
so far we are batting 1.000.  we have been able to find gelato somewhere someplace every night.
and why not?
gelato is not an indulgence.  gelato is mandatory.
not only is it sweet and yummy, but it cleans the palate.
but gelato is not all easy.  you have to make choices about what flavor of gelato you want.  and this choice can be a difficult one — mango, chocolate, chocolate chip mint (my favorite), raspberry, hazelnut, and much more exotic combinations — such as cheese cake and figs, vanilla white chocolate fruit forest, chocolate nuts, to name a few.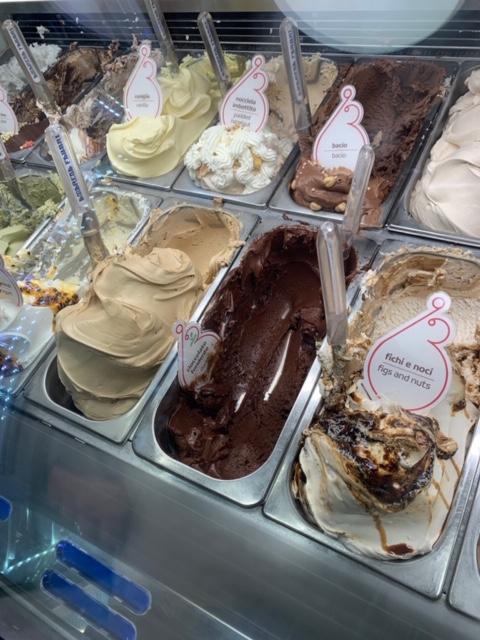 and you have to decide how many scoops to get.  and this can be vexing.  two or three?
and you have to decide whether to get your gelato in a cone or a cup.  these are not easy choices.
on the italian trip three years ago, along with my travel companions (PJ and Tom) we were obsessed with gelato.  we could not walk by a gelato store without stopping.  we averaged two gelatos a day.
i can report that on this trip we have kept our gelato visits to one per day — a significant improvement.
on that trip to italy three years ago, i came up with an anagram for what gelato stands for.  i still like it.
GELATO — the greatest ever living actual taste of…(and then you add your own flavor, such as mango).
and no, i have been good and i have not introduced gelato to Henry YET.