fellow epicureans,
on our more recent trips we always try to arrange to got to a cooking class. we did so in India and more recently in Morocco.  yesterday we did so here in Sicily.
cooking classes are attractive for a number of reasons.  one, it gives you hours with a local, allowing you to get to know the person, and hear from her about not only cooking but life in the part of the world that we happen to be in.  two, it usually involves other travelers too, which provides an opportunity to meet and get to know others on similar journeys.
but to me the most important benefit of cooking classes is that it allows — or, i should say, forces — you to use your hands.  which, when you think about it, is something that most of us don't do when we are traveling.  when we are home we use our hands throughout the day — making our beds, making breakfast, typing on the computer, tending to the garden, throwing the ball, sweeping the floor.   when we travel we don't use our hands as much.  there is something really healthy about using our hands.
well, cooking classes sure do require the use of our hands.  the slicing and dicing that goes on.  whether it be peeling the garlic cloves, or the slicing of the zucchini, or the dicing of basil leaves, or the chopping of parlsey leaves, or the chopping of onions, or finely slicing celery stalks, or halving and pitting green olives, or cutting potatoes into vertical slices, or finely chopping all kinds of herbs.st
yesterday we did all of the above and more.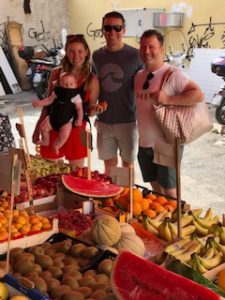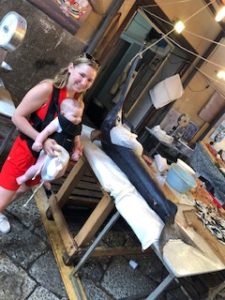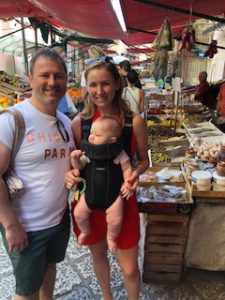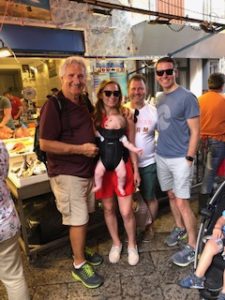 we started out by going to the public street market and gathering our ingredients, going from one stand to another.  our host, chef and landlord was Nicoletta, who at 65 is the unbelievably gracious and accomplished grand dame of Palazzo Lanza Tomasi.
Palazzo means palace and her and her husband's home in Palermo is definitely that.  facing the Palermo seafront, built in the 17th century just behind the 16th century city walls, the building has been lovingly restored.  it is cavernous, which many rooms for all kinds of functions.  it has a library which houses 50,000 books. the grandeur of the place strikes you.  ballrooms, grand marble staircases, 20′ ceilings, phenonmenal furnishings, exquisite Sicilian cabinetry, collections of pictures, art, fans, maps, and other things. a terrace that is grand enough for NIcoletta to have made into her own herb garden.  we were fortunate enough to not only take a cooking class here, but the Palazzo was our home for three nights in Palermo.  we got to experience it.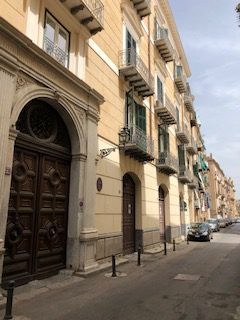 back to the cooking class.  it lasted from 8:30 in the morning to 3:30 in the afternoon.  the hours were spent going to the market to gather our ingredients, returning to slice and dice and prepare for the cooking, the cooking itself and then finally a grand meal.
a little bit of contrast to the way and the time i usually take to prepare my meals at home.  my breakfast takes me 3-5 minutes to prepare.  my lunch and dinner may take 10 minutes of which 3-5 minutes, the majority of the time, is spent waiting for the microwave to complete it duties.
cooking classes remind one — at least me — that there is another way to cook.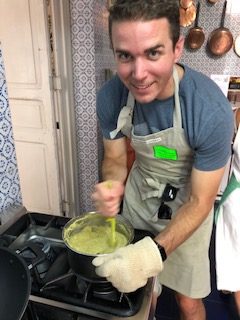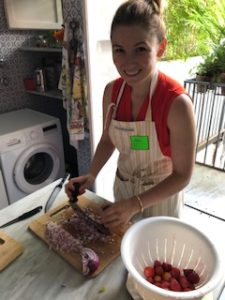 what did we cook?  Panelle was our first course.  Panelle is a popular steet food in Sicily.  they are fritters made from chickpeas. this first course was followed by fusilli (a type of pasta with corkscrew shapes) with zucchini, basil, and toasted pine nuts.  our main course was swordfish alla Ghiotta along with roasted potatoes with fresh garden herbs.  our desert was strawberry and orange jelly.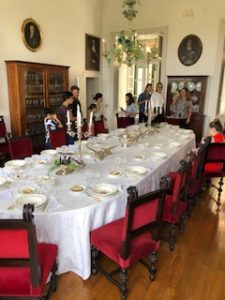 for me this was not only a cooking class, it was an gastronomical experience. it was a history lesson.  it was an introduction to the value of the cooking experience.  it was 7 hours cooking one meal — about 6 hours and 45 minutes longer than i usually take to cook.
it was an amazing experience.  when i sat down at 2:30 in the afternoon to eat our efforts, i ate very slowly.  i really tasted and valued every bite.  i waited until i had fully digested each bite before i took the next one.  i laid my fork down after every bite.
ummmm…