when I was a kid, I used to love Almond Joy candy bars. coconut with an almond on top.  all covered in chocolate.  wow.truth be known I still will get an Almond Joy from time to time.
one of my favorite expressions over the years has been "um boy…almond joy!"
let me tell you, we had an experience last evening that was as far away from an almond joy as you can get.  we had a three hour lesson in Italian cooking in Tuscany, Italy.
to set the stage properly, let me remind the readers of this blog about the sculpting class we had in Florence just a few days ago.  you will recall that I admitted that none of the three of us had any experience whatsoever in sculpting.
I need to repeat that same admission here.  none of the three of us are cooks.
wait a second, that may be a little harsh.  PJ and I use the microwave quite a bit. I do some grilling from time to time.  Tom has been known to rustle up a PB&J occasionally.  but, the bottom line is that we are not cooks.
having said that, we are ready, willing and eager.
our first task was to find someone who had the guts to try to teach us how to cook.  we luckily found Marta.  what a sweetheart.  always a smile on her face.  she was so accepting of us and our capabilities. a real workhorse. nothing was too much of a trouble.  a bundle of energy.  very efficient.  knows how to slice a tomato.  can peel a garlic clove in a second.  we were, needless to say, in awe.  more accurately, our mouths were wide open most of the time.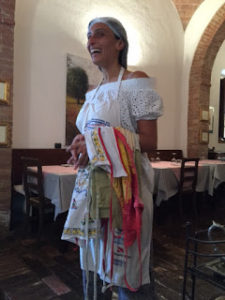 I should step back.  our very first task was to be dressed properly for the job of cook.  so, we adorned aprons and tied them in the back.  we learned that is not as easy as it looks.
then we placed white hair nets on our heads, capturing to the extent we could all of our hair.  at this point we began to realize that we would not be on the cover of GQ magazine.
the cooking class took place in her restaurant, La Cisterna nel Borgo located in Rocca d'Orcia, a very small community tucked away in the Tuscan hill country.  not easy to find, and in accessible by automobile.  from where you park your car, you have a good 10-15 minute walk to the restaurant.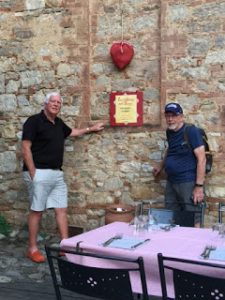 she has room for 60 persons a night.  dinner only.  one seating only.  open six nights a week in her 8 month season. she takes off 4 months each year in the slow season.
within her restaurant, the class took place in the very small kitchen.  because of the historical preservation rules she has to operate within the boundaries of the building which was built centuries ago.  no expansion of the walls is possible.  it was a tight space for the three of us, plus Marta.
she taught us how to make a cheese salad (not shown), a pasta and tomato sauce, a main dish of red pepper stuffed with tuna, and a ricotta desert. for those of you who like the recipes, let me know I will be happy to forward them to you.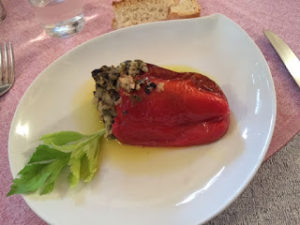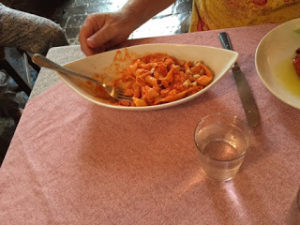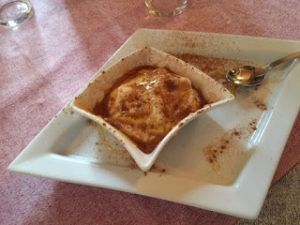 we learned the recipes for each. we learned how to slice and dice.  we learned how to peel a garlic clove, how to separate the parsley leaf from its stem, how to slice and dice a tomato, how to prepare a red pepper for cooking, how and why to use two day old bread, how to roll out and how to roll up your pasta, how to cut your pasta, why the bread crumbs that we cut up had to be the same size, why to mix the capers only so much and not too much, what a difference a little bit of dried red pepper flakes can make, and more.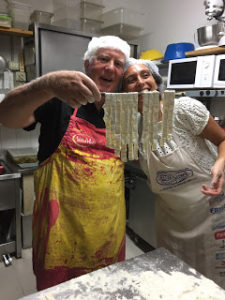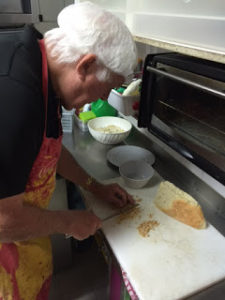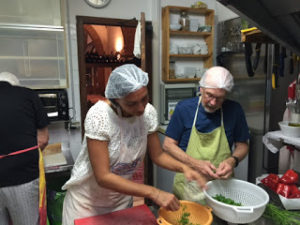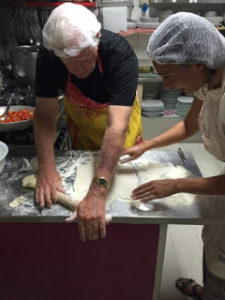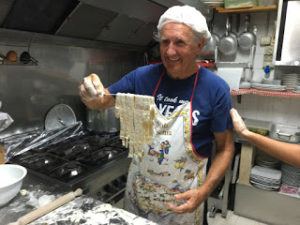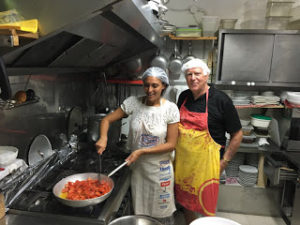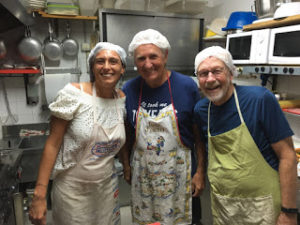 but what was most telling to each of us was the emphasis she placed on the source of her ingredients.  she said it made all the difference.  where and when she got her tomatoes. the kind of tuna she sourced. the type of flour she used.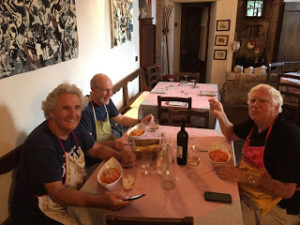 Needless to say we learned a lot.
Maybe PJ and Tom don't know how to eat the Italian way (see previous blog), but they are learning how to cook the Italian way