after my post yesterday, i received quite a few calls, emails, texts concerned about my safety.
so, before i even take off (scheduled for 0900 hours Pacific Time on Wednesday), let me run down the steps that i have taken to reduce the potential dangers.
the boat itself, while small and exposed, is very very sturdy.  will not sink.  self bailing.  the Boston Whaler can be cut in half and still float.

propulsion.  the engine is a Yamaha 150 hp outboard, which has been tuned up for the journey.  i have in addition a 5hp Yamaha kicker motor in case the big motor dies on me.
navigation gear.  i have a Garmin chart plotter which uses GPS satellite signals to establish my exact location.  this plotter gives the location of key buoys used for navigation, as well as the depth at all times.  it is connected to an AIS (Automatic Identification System) receiver which notifies me by an alarm of any ships near by.   very helpful in foggy conditions.
communication gear.  i have my Apple I-phone of course, but coverage may be really spotty. on board the vessel i have a VHF (very high frequency) radio with numerous vessel to vessel channels and many ship to shore channels.  Channel 16 is devoted to Coast Guard emergency messages solely.  the VHF will also pick up every weather channel as i progress northward and westerly.  just in case something happens to the VHF on board, i have a battery operated, hand held VHF which has all the same functionality.  i have a regular AM/FM radio on board too, which has been outfitted to have a USB charging station so that i can charge my phone and other devices while at sea.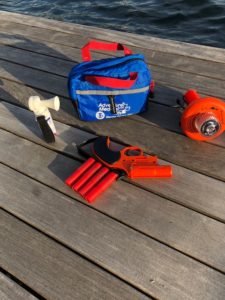 emergency notification gear.  in case of emergency i have a flare gun which shoots flares into the air, have a floating beacon that send out a piercing white strobe light, and i have a horn which makes a terrific noise.
more importantly, i have an inReach device.  i can't talk on it but can send and receive texts, and every message i send has my exact latitude and longitude location.  it also has an SOS feature.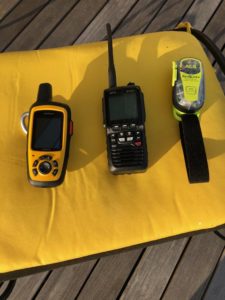 finally, i have a PLC (Personal Locater Beacon) which i plan to wear at all times. the PLC broadcasts (when activated) via satellite a unique distress signal with my GPS location to search and rescue teams. this required me to secure a FCC radio license.  when the PLC is activated the emergency response is immediate, no questions asked.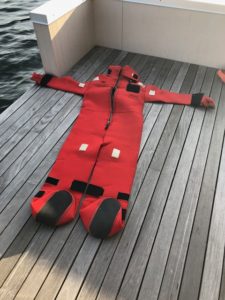 survival gear.  thanks to my friend Bruce Agnew i have a used survival suit which should help me withstand the 48 degree temperature of the water in this part of the Pacific Ocean.
also have a life jacket which i will wear, and i have designed a harness that i plan to wear to keep me in the boat at all times.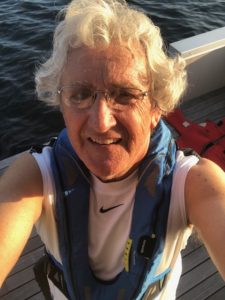 i will also post a float plan, and forward it to my kids so that they have some idea where i might be on a given day.
having said all the above, the most important safety step i can take is to talk to the locals, monitor the weather, winds and fog, pour over the tide, swell and current charts, and be very, very patient about waiting for the weather to be decent.  in other words, I need to have the patience to stay in port when it does not make sense to get out on the high seas.
and, since most of you know that patience does not come easily to me, i will be super focused on this.
stay tuned.