what a wonderful spot!
what a treat to spend time in a town with no Uber of Lyft.  a town with no traffic hassles. a town that is musically inclined.  a town with a setting that is truly jaw dropping.

this town of less than 10,000 people just feels good.  you get the sense that everyone who is here knows exactly why they are here.  and they appear to be very comfortable with themselves and their lives here.
some special moments in Port Townsend (PT).
music.  by chance, one of the days that i was in PT was "make music day".  this is one day a year when spontaneous music is encouraged by all, whether it be on street corners or front porches.  i got a first hand opportunity to enjoy this by stumbling upon the "Unexpected Brass Band" who were playing on a street corner.  they were terrific!  you get the sense that many of the locals have played or can play an instrument of some kind.  music is in the air here.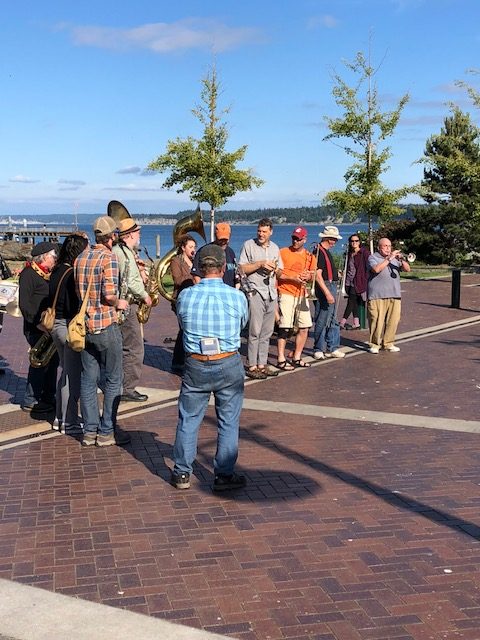 lodging.  since staying on my open air, no cabin 17′ boat is not an option, i am forced to find lodging.  i have stayed in two classic "hotels" in PT and loved each one.  one called the Swan which overlooks the Hudson Point marina where my boat is moored.  the other is the Bishop Victorian Hotel which lives in this 127 year old building.  no elevator.  each room has a 14 foot tall ceiling.  brick walls.  windows that are narrow and 10′ tall.  fireplaces in each room.  there is nothing modern about these rooms whatsoever, and it feels great.  you feel like you are living back in the Victorian time period.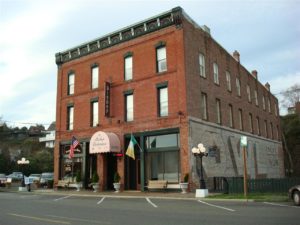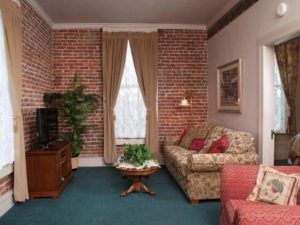 movies.  PT has one 110 year old movie theater house called The Rose.  what a funky treat.  three different rooms for showing movies.  the one i liked the most is the Starlight Room, which sits on the third floor and each seat is a separate, movable, old fashioned high back comfortable cloth chair.  in addition, food and beverages are served to your seat, as they have an arrangement with the delightful and delicious Silverwater restaurant which occupies the first and second floors.  the room has enough chairs and sofas for about 25 people for a viewing.
soda fountains and banana splits. when was the last time you went to a soda fountain.  what a treat to revisit this blast from the past.  and then, on top of that, to order a banana split.  i don't think i have had a banana split in the last 50 years, but i had one yesterday.  how can you sit down at a soda fountain and not order a banana split!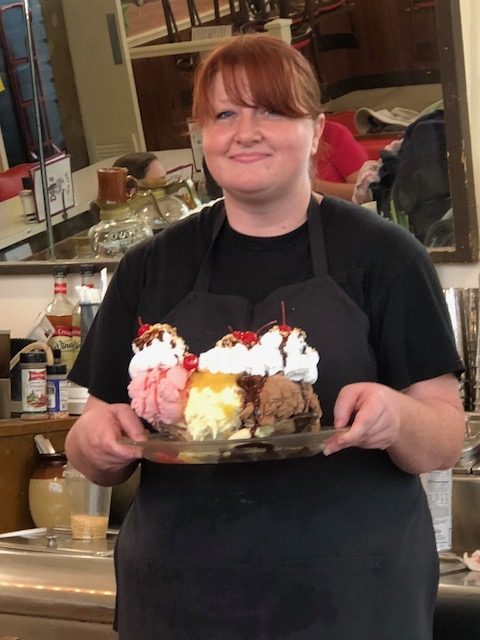 Fort Worden.  now a Washington State Park, but previously a military base, presumably protecting the Seattle's, Tacoma's and Olympia's in Puget Sound from enemies approaching from the Pacific Ocean through the Strait of Juan de Fuca.  positioned so uniquely on the Point Wilson peninsula, jutting into Admiralty Inlet.  and, most endearing to me, the site for the shooting of the popular movie "An Officer and a Gentleman".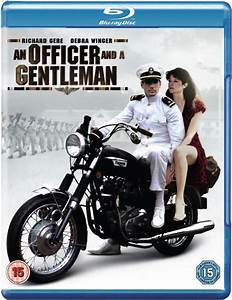 PT is wonderful…