this adventure is truly an adventure.
today at 0450 hours yours truly cast off from shore in Port Townsend Washington to make the not insignificant effort to cross the Straits of Juan de Fuca, a body of water that is 100 miles long and up to 20 miles wide which can be very challenging, especially with a westerly wind against an ebb current.  the purpose of my leaving so early is to hopefully cross the Straits when there is less wind, and my timing corresponded with a slack current.
i headed out of the marina eastward towards Point Wilson, which is the crucial location where the water from the Straits of Juan de Fuca pour into Admiralty Inlet which in turn empties into the extensive Puget Sound where Seattle is located.  the rip tides at Point Wilson can be severe.  as i am motoring out to the Point, where i will turn my boat and head northwest to Victoria, British Columbia, Canada, all of a sudden my motor dies.  just dies.  quits.  like, stops working.  Port Townsend and Point Wilson are in the bottom right corner of the map below.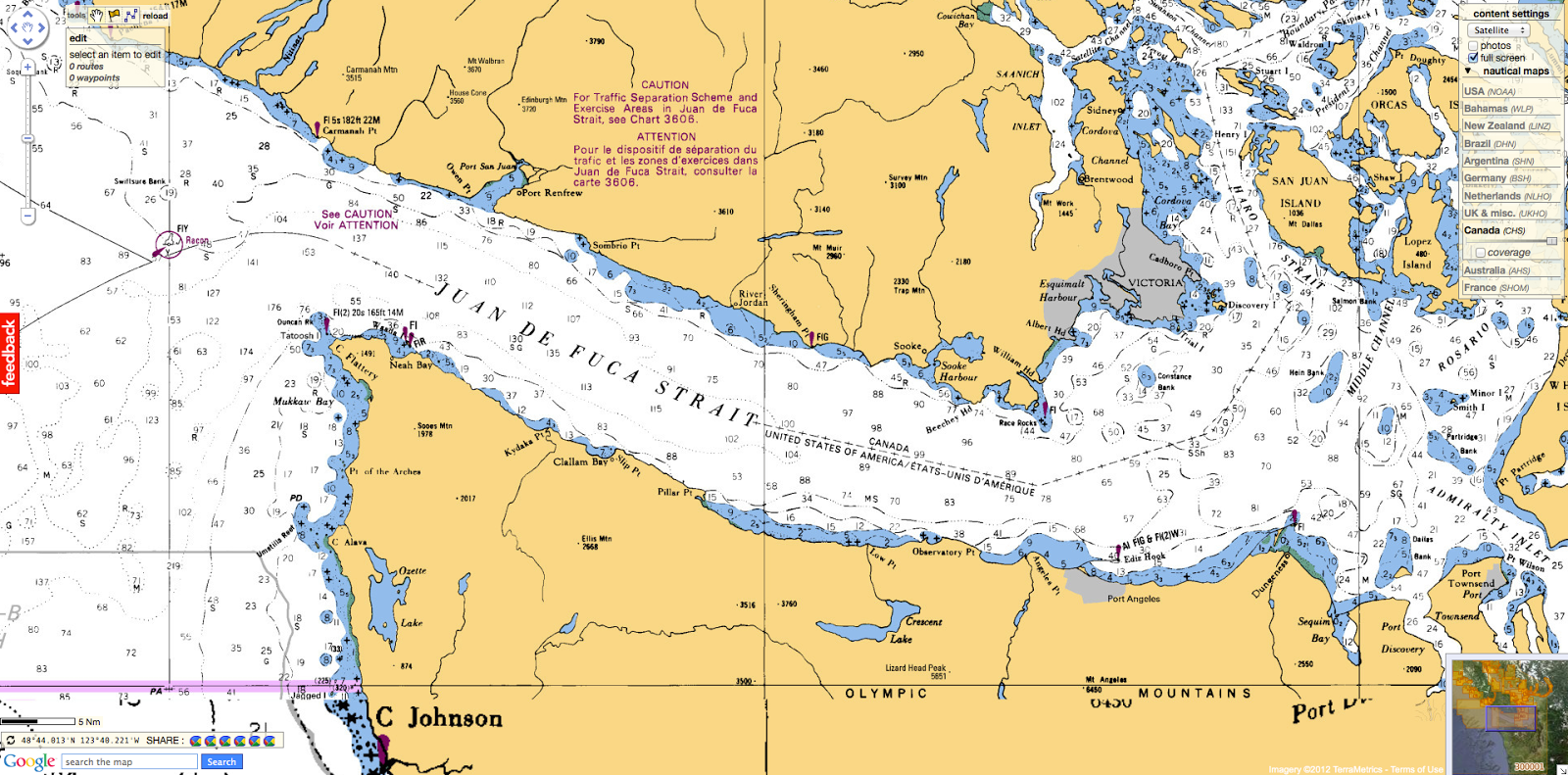 whoa!  what is going on?  holy cow!  i turn the key to start the motor again, and it starts ok but quickly shuts down again.  no go!
at this point, i also check the water level in the bilge (basically the basement of the boat) and see that to my surprise water is overflowing the bilge even though i have had the bilge pump on for 20 minutes.  the boat is taking on water, but not from over the gunnels, from over the sides of the boat.  no, somehow water in getting into the boat from the bottom of the boat.  so much so that my bilge pump at full tilt is making no headway.  the water is coming in as fast as it is going out.
no reason to panic because of the water problem since the Boston Whaler can be full of water and it will not sink.  nevertheless, this is disconcerting since it adds tremendous weight to the vessel and it means that there is a leak somewhere. not good
but the bigger problem right now at 0530 hours this morning is how to get the boat back to a safe spot, such as the marina i just came from.  and to do so with no main engine.  no hope of a tow.  i am the only boat on the water.  my kicker motor is only 5 horsepower but it is designed for trolling for fish, but it is also a safety back up if the main motor fails.  i start it and put it in gear and head back to the marina.  5hp barely moves the boat, especially when we are fighting an outgoing tide and and ebb current.  we are making progress but it is very, very slow.  finally after an hour i bring the boat back into the marina that i left an hour and a half ago.
i google search for engine and boat repair facilities in Port Townsend and find one that is located at the same marina where i am.  i call them, but they don't open until 8am.  i walk over there and sit on the front door step of the business and wait until the owner arrives at approximately 7:40.  i explain my plight, and he listens intently.  i explain the trip that i have planned for the West Coast of Vancouver Island.  i convey my story of what happened to him.  i ask for his help.
graciously he does not dismiss me.  obviously he could have easily said that since he has 45 boats that are in his shop and are being worked on.  each of these boats scheduled their work, and are waiting for the boats to be finished.  he has 7 workmen all of whom have their daily assignments.  in Seattle right now at this time of the boating season it is 2 to 3 weeks before any repair facility will schedule your work.  in seattle they will not even give you the time of day unless you get in line. and they are not nice about it either.  they are calling the shots.
however, Chris Bakken, the general manager of Sea Marine Services in Port Townsend did not do that.  in fact, he said that my situation was not an emergency, but it had an urgency to it.  i loved that.  so what does Chris do?  he gets his boat hauler to get on his giant rig and prepare to haul my boat out of the water.  Chris pulls another of his workers off of other work, to look at the bottom of the boat and how salt water could be entering the craft. Chris then pulls another of his workers off other duties to examine my 150hp Yamaha engine.  by 9am i have my boat high and dry, in the boat yard, being worked on by two professionals.  pretty amazing.
there is much to be thankful for.  and there is much to be concerned about.
thankful that these problems (water entering the boat's hull, and engine dying) happened now and not later in the trip.  if this had happened half way across the Straits this morning i would have needed significant help to get the boat back to a safe moorage.  i would have been very hairy.  it was so lucky that this happened so close to the marina early this morning.
the second thing to be thankful for is the unbelievably accomodating response of Chris and his workers.  they easily could have said, we will get to it when we get to it.
the third very lucky thing about this is that it is happening in Port Townsend WA, which is the cutest little community.  if you have to be marooned, this is a great place to do so.  more about Port Townsend in a subsequent post.
concerns.  yes, for sure.  we don't know what is causing the water intrusion. we don't know if we can fix the motor.  they are still working on it.  we don't have the boat back in the water.  not sure whether this will take one day, two days or five days.
stay tuned.