The first day on the water has been eventful.
Leaving the fresh water of Lake Union for the salt water of Puget Sound.
To do this, you have to take the boat through the 100 year old Hiram Chittenden Ballard Locks, which are operated 24/7 all 365 days a year by the US Army Corps of Engineers.  What an engineering marvel.  over 40,000 vessels use the locks each year.  these locks are the busiest locks in the United States.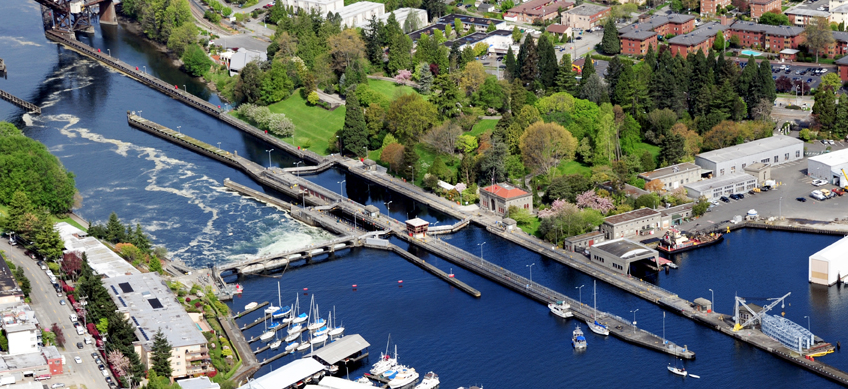 the locks lowered my boat, which is named Breakaway II, about 18 feet from the lake level to the water level of the salt water of Puget Sound.  the amount to be lowered depends on the tidal conditions of the salt water.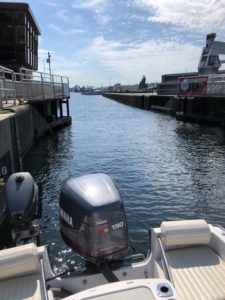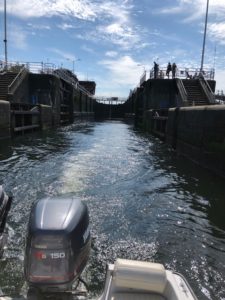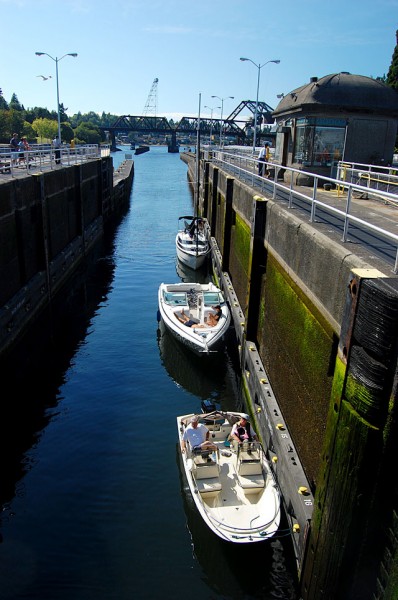 after getting the boat through the locks, I spent some hours moored/tied up at Shilshole Bay Marina in Seattle, one of the largest marinas on the west coast of the United States.
Once I felt that I had everything all set in the boat, and believed the boat was ready for some relatively rough water, I ventured out into Puget Sound.
Once in salt water, you begin to experience tides and currents.  And then there are the winds.  And when you combine winds in a certain direction with ebb currents in a different direction it can get interesting.
I headed north northwest for Kingston, a small community on the Kitsap Penninsula, and the summer home of Bill and Sandy Bell, good friends from my winter retreat in Indio California.
Although the trip to Kingston only took an hour it was a long hour.  The boat did fairly well dealing with the waves and the wind.  However, one problem developed.
One of my two antennae began to list to the left.  Instead of standing ramrod straight up, the antenna on the port side of the boat began to wobble and weave in the wind.  the reason for this is that i had mounted a radar reflector on the antenna so that other ships can "see" my little 17′ Boston Whaler with their sophisticated radar systems.  this radar reflector weighs enough to cause the antenna to bend a little more than its counterpart on the starboard side of the boat.  you can barely make out the radar reflector at the top of the port (left) antenna on the boat in this picture on the left. the picture on the right shows as of today my boat has no port antenna.  more about this in a subsequent post.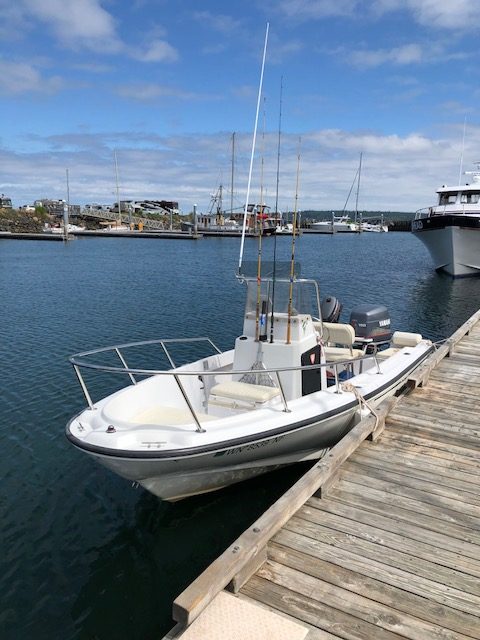 i arrive in the Port of Kingston, secure my guest moorage slip in the marina.  Sandy, Bill, their daughter Melissa and her husband Aaron, their two kids, and Bill's sister and her husband were kind enough to invite me to join them for a summer outdoor barbecue.  they also were kind enough to offer me a bed to sleep on.  a wonderful way to close out the first day on this water adventure.